Easy Ways to Enhance Outdoor Amenities at Your Community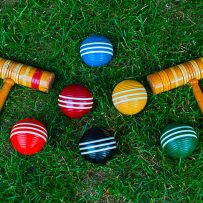 Story by: JENNIFER LYONS
With summer just around the corner, residents are hanging up their jackets and ready to start enjoying the outdoor amenities that your community offers — or could be offering! Help your residents make the most of the sunny summer days by sprucing up the outdoor features that make your community special. Who knows — you might just attract some new renters along the way, too.
Get ready for grilling
Your community barbecue grills likely need a little TLC after the winter months. Give them a good cleaning, replace worn racks as needed, and make sure that they're connected to a fuel source and ready to use. Go one step further and invite residents to a community barbecue to celebrate the start of summer. It can be done affordably by providing the side dishes, condiments or drinks; invite your residents to bring whatever they'd like to grill. It's also a great way to reconnect with residents you haven't seen in a while.
Spruce up your clubhouse
While not an outdoor amenity per se, your clubhouse will likely become a popular hangout this summer — especially if it has air conditioning and a big-screen TV for watching baseball! Give it a fresh coat of paint, plant some new flowers near the entrance and stock up on snacks and treats for residents. If the furniture is worn or stained, invest in a few new pieces so residents will look forward to spending time there.
Make use of the lawn
The well-manicured lawn on your property can do much more than just look good. Make it a gathering place for fitness-minded residents by partnering with a local gym or yoga studio to offer low-priced boot camp, yoga or Pilates classes for residents. It's a great way to foster a sense of community and help renters get outdoors!
Create features for Fido
Does your community have any unused outdoor areas that aren't well-trafficked or conducive to landscaping? If you're a pet-friendly property, make use of this empty space by putting up a low fence to create a small off-leash dog park. Residents will be glad to have a place where their pups can get some exercise, and it's an appealing, year-round benefit to be able to offer future residents.
Invest in a play structure
If your community is home to lots of kids, installing a playground can be a great investment. It gives families a place to enjoy being outdoors together and gives kids a safe place to play. When choosing a location for your play structure, go with somewhere central. Many communities stick play structures in the back of the complex, far from where anyone would want to spend time, and they go unused. And, don't forget to include some benches or picnic tables.
Offer classic recreation options
It's often the little touches that make the biggest impact. Stock your clubhouse with lawn games and equipment for outdoor recreation and let your residents use them free of charge. Croquet, badminton, bocce ball, horseshoes and Frisbees are all great options.
Encourage green thumbs
If you have enough space, designate an area of your property as a community garden. Let residents sign up for a plot to grow fruit, vegetables or flowers. Make sure to locate your garden near a water source and provide hoses, yard waste bins and other necessary equipment.
Don't forget about the evenings
Long summer evenings were made for relaxation and reconnecting, so provide your residents with outdoor spaces they can enjoy even after the sun goes down. Consider adding a cozy firepit with comfortable seating and make sure other outdoor areas are well lit and welcoming.
Go with something unique
Get creative and come up with a truly unique amenity that makes your community stand out — a huge lawn chess set, Zen garden, outdoor wet bar or even a rock climbing wall. These types of amenities are not only a blast for current residents, but they are buzz-worthy additions that really make your community memorable for prospective renters.
By making your community a wonderful place to spend the summer, you'll keep current residents happy, encourage lease renewals and show potential renters that your management team cares about your residents' quality of life — both during the summer and throughout the year.