Easy being green: Trees in major Canadian cities provide millions of dollars in environmental benefits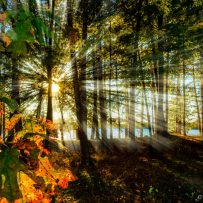 Story by: Kat Sieniuc  |  BuzzBuzzHome
Vancouver, Montreal and Halifax's more than 100 million trees provide environmental benefits of over $250 million per year, with every dollar spent on annual maintenance giving a return of between $1.88 and $12.70, says a new report from TD Economics.
"[Urban forests] are valuable environmental resources," said TD Economics chief economist, Craig Alexander, in the analysis that came out Wednesday.
With the historic climate march in New York City that saw more than 300, 000 people take the streets last weekend for a better climate, and world leaders committing dollars at the United Nations to addressing climate change earlier this week, more trees in Canadian cities would not only conserve energy, but save residents money.
The three cities analyzed by TD are worth an estimated $51 billion in total.
The report follows a previous analysis of Toronto's urban forest that the bank released in June, which concluded that the city's 10 million trees have a value of $7 billion, or about $700 per tree.
"Urban forests don't just green our neighbourhoods, they also help keep the green in our pocketbooks," Alexander said.
This is how Canadian cities compared in a breakdown of annual environmental benefits provided by their urban forests:
Money saved from reducing strain on city water systems and infrastructure by canopy and roots absorbing precipitation and reducing pollutants and erosion.
Vancouver: $96.43 million
Montreal: $15.95 million
Halifax: $2.10 million
Money saved from improving air quality by providing oxygen and removing air pollutants that can cause human respiratory diseases.
Vancouver: $115.86 million
Montreal: $6.19 million
Halifax: $12.59 million
Energy savings from shading and climate moderation.
Vancouver: $4.64 million
Montreal: $1.72 million
Halifax: $12.40 million
Money saved in carbon sequestration (when trees store carbon rather than emit it into the atmosphere), mitigating carbon's effect on climate.
Vancouver: $7.21 million
Montreal: $0.58 million
Halifax: $4.28 million