Dream REIT Looks to Restaurants to Beat Office Glut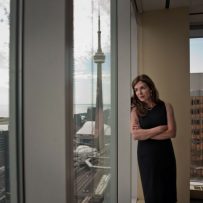 Dream Office Real Estate Investment Trust, the worst-performing REIT in Canada over the past year, is banking on tower renovations and adding retail to keep tenants amid a wave of new office supply.
Dream Office, the largest office REIT in Canada, is seeking to sell as much as C$150 million ($138 million) of properties this year in smaller markets, and to upgrade its buildings and add retail space in its Toronto and Montreal properties, according to Chief Executive Officer Jane Gavan.
"It used to be pure office — that's all we looked at," Gavan said in Bloomberg's Toronto office on Aug. 27. "For us, there's going to be a lot of opportunity to develop the things we own and add retail."
Dream Office units have dropped 0.3 percent to C$28.95 over the past 12 months, for a yield of 7.7 percent, the worst performance among the 15-member Standard & Poor's/TSX Capped REIT Index, which has gained 13 percent on average in the same period.
"Significant multiple expansion is unlikely to take place in the near term given expected challenges in the Canadian office market," Matt Kornack, an analyst at National Bank Financial who rates the stock a buy, said in an Aug.10 note to clients. Kornack said Dream Office has "longer-term value" because of the quality and location of its portfolio, and offers an attractive yield for investors.
Rents Decline
About 7.9 million square feet of commercial space will hit the market in Toronto, Vancouver, Calgary, Montreal, and Ottawa, this year and next, weighing on rental rates, according to New York-based real estate-services firm Cushman & Wakefield Inc. Toronto-based Dream Office is preparing for the crunch by adding shops and restaurants that net higher rents, Gavan said.
Rent for the best quality office space in Toronto, the country's financial capital, was C$52.15 on average last year, according to Cushman & Wakefield. That's forecast to drop 5.4 percent to C$49.35 by next year as a cooling economy and a wave of new supply outweigh demand, according to the firm.
In Toronto, where Dream Office has about 40 percent of its portfolio, city hall this week approved construction of three more office towers in the downtown core. That adds to the 5.1 million square feet under construction at the end of last year, the third-highest level in North America after New York and Calgary.
"No doubt in Dream Office there are head winds," Gavan said. "You've got new supply and you've got some vacancy. So we need to focus on retention, doing the real estate right, spending money so tenants want to stay."
'Poster Child'
Dream Office, which owns 182 properties across the country, said its occupancy rate, or the percentage of leased space, slipped to 94.1 percent in the second quarter this year from 94.9 percent in the same period last year. That's below 95.6 percent in the same quarter in 2012.
By adding retail, and maybe even residential units, to its current buildings and future towers, the company aims to retain tenants and create an enticing space for potential clients.
"Toronto is a poster child," Gavan, who was appointed CEO in May when the company also changed its name from Dundee REIT, said. "If you think of what Toronto looked like 20 years ago, downtown was dead at night. Now there's vibrancy and life. The next stage is people turning over office space to retail."
Dream Office has already added more retail in its downtown Toronto towers. The company added SpeakEasy 21, a restaurant where waiters in suspenders serve Italian sodas in mason jars and tapas-style dishes, to its flagship Scotia Plaza this year. The ground-floor restaurant, located in the building that the company bought for a record C$1.27 billion with H&R REIT in 2012, was leased for more than C$50 a square foot, according to a company presentation.
To contact the reporter on this story: Katia Dmitrieva in Toronto at edmitrieva1@bloomberg.net
To contact the editors responsible for this story: David Scanlan at dscanlan@bloomberg.net Jacqueline Thorpe