DOUG FORD SHUFFLES CABINET AFTER HOUSING MINISTER RESIGNS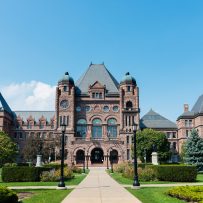 Ontario Premier Doug Ford has shuffled his cabinet in the wake of Steve Clark's resignation as housing minister amid the ongoing Greenbelt scandal.
In a statement from the government issued Monday afternoon, Ford announced changes to his cabinet, with Paul Calandra taking on the role of the Minister of Municipal Affairs and Housing.
Calandra will remain on as the Government House Leader.
Rob Flack will become the Associate Minister of Housing "with a specific mandate on attainable housing and modular homes," the statement said.
Other changes include Prabmeet Sarkaria becoming the Minister of Transportation, replacing Caroline Mulroney, who is taking over Sarkaria's role as the president of the Treasury Board.
Sources said Mulroney has been seeking the role for years because of its direct financial influence over every ministry in the Ontario government.
Todd McCarthy will be the Associate Minister of Transportation.
Mulroney will remain the Minister of Francophone Affairs.
Stan Cho was also named the Long-Term Care Minister, taking over for Calandra.
And Nina Tangri was named the Associate Minister of Small Business.
"As our province's population and economy grow, it's never been more important for us to build Ontario," Ford said.
"As we continue to attract billions of dollars in new investments to create better jobs with bigger paycheques, we have the right team in place to get it done. We'll never stop working on behalf of the people of Ontario to build the homes, highways and public transit our growing communities need."
The changes come after Clark resigned as housing minister earlier Monday, but remains on as an MPP.
Ontario's integrity commissioner found Clark broke ethics rules for his role in the Ford government's Greenbelt land swap scandal.
In a letter published on Monday morning, Clark said he felt his role in the Greenbelt decision and subsequent investigations were "a distraction" from the ministry's work to solve the housing affordability crisis.
"As someone who has given my life to serving the people through our democratic institutions, it is my responsibility to adhere to the principles of Ministerial accountability," Clark said in a post on social media.
Official Opposition New Democrat Leader Marit Stiles called the new cabinet a "slapdash team."
"Mr. Ford can rearrange the deck chairs all he likes but it's not going to change the fact that Ontarians are fed up with a corrupt government rigging the system to help a select few of their insiders get even richer – at everyone else's expense," Stiles said.
Ford is expected to speak with the media on Tuesday morning at Queen's Park.
Story by: Global News