Doug Ford, Ex-Toronto Mayor's Brother, to Lead Ontario PC Party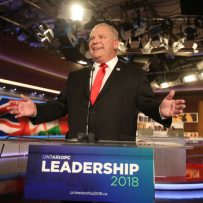 Doug Ford, brother of former Toronto Mayor Rob, was named leader of Ontario's Progressive Conservative Party three months ahead of a general election in Canada's biggest province.
The result was announced more than six hours after the scheduled time in suburban Toronto Saturday, after party members were asked to leave a rented hall because of problems tallying the votes. Ford edged out attorney and former provincial lawmaker Christine Elliott, party officials said in televised remarks.
Ford is a former Toronto city councilor who made a late run for mayor in 2014 after his younger brother was diagnosed with cancer. He came in second in that race behind former provincial legislator John Tory. Ford, like his brother, touted his connections to ordinary voters dubbed "Ford Nation" who want small government and a tough style of speaking.
Balance of Power from Bloomberg Politics
The PC leadership contest was triggered by the resignation of Patrick Brown in late January after a CTV television report featuring interviews from women who said he made unwanted sexual advances — allegations he's denied. Similar claims also led to the exit of the party's president. Years of preparations to unseat the Liberals led by Premier Kathleen Wynne must now be refashioned ahead of the election on June 7. The party has already lost several elections in a row to the Liberals.
Day Marred
"To Kathleen Wynne, I say your days as premier are numbered,'' Ford said from the convention site in Markham. "We are going to spend the coming weeks getting our party in fighting shape.''
Ford noted the chaos that marred a day that was supposed to recast the party as ready to govern again. The main event ended with images of crews taking down balloons that were meant to shower the new leader during the afternoon. "I know that many of the party members feel like they were let down by this process,'' he said of the voting.
He also said he was thinking of his brother after the victory.
Remembering Rob
Rob Ford had a troubled tenure after becoming Toronto's mayor on a promise to halt a "gravy train" of spending that appealed to voters in the suburbs of Canada's biggest city. He admitted to the use of crack cocaine and became the butt of jokes on talk shows within and outside of Canada. He died in 2016 at age 46 after being diagnosed with liposarcoma, a rare type of cancer.
Elliott represented the Whitby-Oshawa district east of Toronto in the Ontario legislature for nine years starting in 2006 and was named as an advocate for the province's patients in 2016. She was married to Jim Flaherty, the former federal finance minister, before he died in April 2014.
The Wynne government's popularity had trailed PC's before the troubles with Brown, with some voters upset over jumps in their electricity bills and a long struggle to balance the province's budget.
The winner of the PC leadership contest will challenge Wynne to run Canada's largest provincial economy, equal to almost 40 percent of the nation's gross domestic product and home to the banking and corporate hub. The province is also Canada's major manufacturing region and boasts major auto assembly plants.
'Divisive' Policies
The Liberals said in a statement Saturday that under Ford the PCs would slash vital healthcare and education programs and damage the economy. "The billions in cuts they are promising, and the divisive social conservative policies they are championing will hurt Ontario's economy and change our province for the worse," Liberal Campaign Co-Chair Deb Matthews said.
Ontario's broader manufacturing base has struggled with tougher foreign competition and is under threat from U.S. trade protectionism, including tensions over steel and the risk that President Donald Trump will quit the North American Free Trade Agreement.
U.S. Trade Representative Robert Lighthizer said last week that the prospect of shifting voter alliances because of elections in Ontario, Quebec and Mexico, as well as U.S. Congressional mid-terms, was one reason he wants the pace of talks to speed up.
Unworkable Proposals
Canada's negotiators have resisted what they call unworkable proposals such as a greater quota for American auto production within Nafta and the right to review and quit the pact every five years.
Ontario will return to a budget deficit after balancing its books in 2017-18, the only year in the past decade, Finance Minister Charles Sousa said on March 7. The province plans to run a deficit of less than 1 percent of GDP in 2018-19 and will have "a clear plan to track back to balance," he said.
Ford said one of his major aims will be improving the economy. "We will return our province to where it belongs," he said. "Ontario will be open for business.''