Doug Ford and Cabinet Sworn In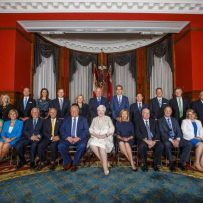 Congratulations to Doug Ford, who was sworn in as Ontario's 26th Premier earlier today.  The following Cabinet Ministers were also announced, and sworn in.
FRPO looks forward to working with the new provincial government – with Premier Ford, Cabinet Ministers, Parliamentary Assistants, and all elected MPPs.
As providers of rental-housing FRPO's members have extensive experience and knowledge to share with the new government.  Working together we can stimulate much needed new supply and improve the overall operating conditions for rental housing in Ontario.
The new ministers are as follows:
•   Peter Bethlenfalvy – President of the Treasury Board
•   Raymond Cho – Minister for Seniors and Accessibility
•   Steve Clark – Minister of Municipal Affairs and Housing
•   Christine Elliott – Minister of Health and Long-Term Care and Deputy Premier
•   Victor Fedeli – Minister of Finance and Chair of Cabinet
•   Doug Ford – Premier and Minister of Intergovernmental Affairs
•   Merrilee Fullerton – Minister of Training, Colleges and Universities
•   Ernie Hardeman – Minister of Agriculture, Food and Rural Affairs
•   Sylvia Jones – Minister of Tourism, Culture and Sport
•   Lisa MacLeod – Minister of Children, Community and Social Services and Minister Responsible for Women's Issues
•   Monte McNaughton – Minister of Infrastructure
•   Caroline Mulroney – Attorney General and Minister Responsible for Francophone Affairs
•   Rod Phillips – Minister of the Environment, Conservation and Parks
•   Greg Rickford – Minister of Energy, Northern Development and Mines, and Minister of Indigenous Affairs
•   Laurie Scott – Minister of Labour
•   Todd Smith – Minister of Government and Consumer Services, and Government House Leader
•   Lisa Thompson – Minister of Education
•   Michael Tibollo – Minister of Community Safety and Correctional Services
•   Jim Wilson – Minister of Economic Development, Job Creation and Trade
•   John Yakabuski – Minister of Transportation
•   Jeff Yurek – Minister of Natural Resources and Forestry
Steve Clark – Minister of Municipal Affairs & Housing
Steve Clark was first elected MPP for Leeds-Grenville in a March 2010 byelection.
In 1982 Steve Clark was elected as the Mayor of Brockville at the age of 22 – Canada's youngest mayor – where he served for three terms.  During this time, he was also the President of the Association of Municipalities of Ontario.  He later went on to serve as the Executive Assistant to MPP Bob Runciman.  Just prior to being elected as MPP, he was the Chief Administrative Officer for the Township of Leeds and the Thousand Islands.