Donald Trump uncertainty trumps Home Capital woes for Canada's central bank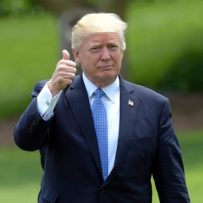 Investors fearful that Home Capital's woes are the start of a broader Canadian crisis shouldn't expect any calming words from the Bank of Canada when it delivers its next interest rate decision.
U.S. President Donald Trump's trade protectionism, Bay Street economists tell BNN, is a much more pressing issue for the bank.
Governor Stephen Poloz has already declared Home Capital's problems to be "idiosyncratic" and not a contagion risk.
"Reiterating this view would not only be unnecessary, but would call attention to a topic that the Bank of Canada has already been clear that it does not view as a problem," Frances Donald, senior economist at Manulife, told BNN in an email.
That's not to say Canadians may not get a "sentence or two" about housing, she added. "Any reference to housing, however, is more likely to address potential softness in Ontario" following the province's moves to cool the market.
While economists don't expect a specific mention of Home Capital in Wednesday's statement, the bank "should make a broad statement about the stability and the quality of the mortgage market," according to CIBC Deputy Chief Economist Benjamin Tal.
Donald Trump's top trade tirades
Donald Trump's administration has started the clock on talks to renegotiate the North American Free Trade Agreement. U.S. Trade Representative Robert Lighthizer sent a letter to the U.S. Congress today notifying lawmakers that the trilateral trade pact with Canada and Mexico will be renegotiated. Donald Trump has changed its stance on many things since becoming president but he has been doggedly consistent about this opposition to NAFTA. BNN takes a look at some of Trump's arguments against the trade deal.
That said, Tal isn't holding his breath.
"I doubt they will do that," Tal told BNN in an email.
"The main focus will be Trump-related uncertainty."
Wednesday's rate decision will be a brief affair. No monetary policy report or news conference. It's just a statement explaining the decision, which is widely expected to deliver no change in rates.
While Capital Economics Senior Canada Economist David Madani agrees the bank "probably should make some passing reference to mortgage lenders and financial stability," he adds the bank always has next month's Financial System Review to discuss the subject.
The problems at Home Capital, which include an exodus of deposits and a plunging share price in the wake allegations from the Ontario Securities Commission, are just "one of many important developments that have emerged in the past six weeks," said Doug Porter, chief economist at BMO.
You can add Ontario's housing measures, Canadian economic data, a loonie under selling pressure, and the "political intrigue" in Washington to that list.
"Unless the bank truly believes the economic outlook has been seriously affected by the specific developments at one lender, then I don't think this is the time or place to mention it," Porter told BNN via email.
Scotiabank Chief Economist Jean-Francois Perrault agrees.
"I don't think the Home Capital situation represents a meaningful risk to the outlook," he wrote in an email to BNN.