DO YOU HAVE A POLICY IN PLACE ABOUT VISITORS AND DELIVERIES DURING COVID-19 PANDEMIC?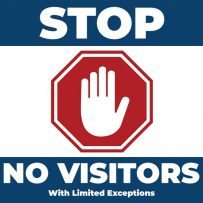 High-rise multi-residential buildings face unique challenges during the current pandemic. While the news has offered some encouraging statistics for those of us in Ontario, residents should be reminded not to loiter and interact with others in lobbies, hallways, laundry rooms or any other common areas.  Maximum of three people only should be in the elevator.  Please stay in your unit as much as possible. Although we all recognize this is a difficult time, we all have a part to play in stopping the community spread of this virus and protecting those who live and work within the buildings.
With social-distancing measures in place and the need to stop the community spread of the COVID-19, tenants and occupants of high-rise buildings are staying home and are having more and more packages and deliveries sent directly to their units.  This has led to a significant increase in non-essential visitors and deliveries to multi-residential buildings and in the common areas. In response, some landlords, property managers and condominium corporations have adopted a Policy restricting all non-essential visitors and deliveries. This includes delivery of food or supplies.
Rather than buzzing a delivery person into the building, anyone expecting a delivery is required to meet the delivery at the front entrance doors upon their arrival. Government approved essential services such as a healthcare worker must still be permitted to enter units.  Exceptions should also be made for residents under self-isolation or in quarantine or with mobility issues, who should continue to be allowed to receive deliveries to their unit door.  The property manager should be advised in writing if an individual falls into one of those categories.
We encourage everyone to restrict and discourage non-essential visitors, such as friends and family, from entering the building in accordance with Health Canada social distancing practices. Social distancing is proven to be one of the most effective ways to reduce the spread of illness during an outbreak. This means all occupants of the building must make changes in your everyday routines to minimize close contact with others.
Building staff and essential service staff working within these buildings are understandably concerned with being safe while they clean and maintain the complex. All occupants should be reminded to respect them at all times and keep a minimum of 2 meters (6 feet) away. Any violations of this policy should be immediately documented and reported to the property manager in writing.
Please be assured that in keeping with preventative health and safety strategies, the Landlord/Board and/or property manager are not in a position to enforce these safety measures unless they receive specific, credible complaints from owners or residents or otherwise becomes aware of persistent breaches of the policy.
Should the reader require a draft letter to the residents advising of this policy, a copy is available in PDF and Word formats at: Landlord and Condo Letters for Visitor Policy
Story by: Cohen Highley LLP Lawyers