DEVELOPMENT LEVIES THREATEN THE VIABILITY OF VANCOUVER RENTAL PROJECTS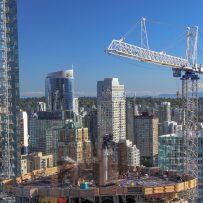 One of Vancouver's largest-ever rental projects broke ground June 15, but the scale of the project would be impossible today with recent increases in development levies.
"Rental, you're always on the scale. You're always so close," said Byron Chard, president and CEO of Chard Development Ltd., which is developing a 575-unit purpose-built rental project at 622 Southwest Marine Drive in Vancouver's Marpole neighbourhood. "We were able to secure a lot of our city fees, our DCLs (development cost levies) … at the rates they were a few years ago. At today's rates, the project would not proceed."
Chard submitted rezoning and development applications for Cascades, as the project is known, three years ago. Since then, both city and regional levies on residential services have increased significantly. DCLs for high-density residential development projects have increased by 25 per cent, or more than $3 million for a project like Cascades. Greater Vancouver Sewerage and Drainage District fees for water, which weren't in place three years ago, would add a further $2.5 million.
"Those city fees that have increased, they're significant on rental projects," Chard says.
A recent analysis by Vancouver property tax expert Paul Sullivan of Ryan ULC indicates that a third of the rent for a new 675-square-foot purpose-built wood frame rental unit in Vancouver is the result of taxes, fees other costs mandated by government policies during development. This works out to $882.70 based on a typical rent of $2,698 a month.
But city fees are just one of the many challenges projects face in order to be viable. Metro Vancouver is on track for strong rental construction starts this year, with the Canada Mortgage and Housing Corp. reporting 3,151 starts in the first four months of the year, but Chard said a number of factors combine to make projects work.
In the case of Chard's project in Marpole, a city decision in 2019 to approve select sites in Marpole for higher density if 20 per cent of the proposed rental units were offered at below-market rents was key.
"That really presented the opportunity for us to do a rental project instead of a condo project, which the official community plan outlined for this site," he said.
The extra density allowed a portion of the below-market units to be allocated to the YWCA, which will oversee 28 two and three-bedroom units offering what Chard terms "deep affordability" (rents have not yet been set for the project, which is set to complete in 2026).
The location in Marpole was also key because of the construction cost savings with respect to logistics. With labour costs seeing significant price escalation over the past year, keeping projects moving is critical.
"Construction is more affordable in Marpole," Chard said. "For trucks and everyone to be going along SW Marine Drive versus trying to navigate onto Broadway is a significant time difference, and time is efficiency. … With rental and how tight our proformas are, those considerations are critical."
Good financial partners also help, in this case a major pension fund which sees the project as a long-term hold.
"We hold the asset long-term with them and it's about cash flow to service the pensions," Chard said, declining to disclose the partner. "They do operate at a lower margin than other groups, but that's why we're able to facilitate [rental] because they're a long-term income opportunity."
On the approvals side, Chard flagged significant collaboration between the project team and city staff as key to the project moving forward. The city wanted to ensure public space in the project, while the loading bay's location under ground – the triangular site faces streets on all sides – meant venting was an issue.
"The lessons learned moving forward is to continue discussion, not just e-mails going back and forth," Chard said. "It's having that discussion. That takes time."
Despite the challenges, Chard intends to keep pursuing rental projects. It has 2,000 units under construction or in the planning stages. In addition to the 575 units in Marpole, it is finalizing details for a further 800 units at two additional projects in Vancouver. It also has projects on the go in North Vancouver and Victoria.
Story by: BIV