Developers sitting on land in Toronto's heated housing market in hopes prices will keep rising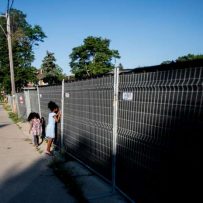 Toronto Housing prices continue to rise in the Greater Toronto Area because of land shortages that are at least partially being driven by builders sitting on real estate in hopes of a rising market, says a new report.
CIBC deputy chief economist Benjamin Tal said provincial legislation which has created scarcity of land around the Toronto region has developers feeling confident that prices have nowhere else to go but up, leaving them in no hurry to erect new housing.
"If you are an owner of potential development land and you are well aware that Places to Grow (provincial policy) will result in in shortage of land by even more than currently anticipated, you will probably not be eager to sell," said Tal, in his report released Monday.
Existing home prices continue to grow in the city with the average price of a detached home up 20.7 per cent in July from a year ago to more than $1.2 million. Across the GTA, existing detached homes are now selling for an average $952,983, while new single family homes have already crossed over $1 million.
The economist took dead aim at the province's Places To Grow Act which has limited the availability of serviced land for ground-oriented housing and set aggressive intensification and density targets.
Tal says the Greenbelt Plan, which restricts the type of development that can take place in the area that rings the city is one factor but intensification policies might be playing a larger role. The plan mandated that by 2015 and every year after municipalities must make sure at least 40 per cent of new developments take place in current urban boundaries.
Under the plan that intensification can take place through redevelopment of vacant or brownfield land but mostly it has meant development of more dense forms of housing. The province now wants to increase that minimum to 60 per cent.
"The higher the rate is, the less land will be released in the outskirts — adding to the lack of land supply," says Tal.
Already the land value of low density units is up 100 per cent over the last decade and 150 per cent for medium density lots, which Tal says is the prime target for intensification. In some cities around the GTA, like Markham, Newmarket and Richmond Hill, land costs make up more than half of the total price of a home.
The economist says the obvious solution to supply problems is to release more land — something he concedes is unlikely. In the absence of that change in policy, he'd like to see Queen's Park hold off from increasing intensity levels from 40 per cent to 60 per cent until the exact impact it will have can be determined.
Tal says low interest rates — now below three per cent on five-year locked in money — are not the reason for higher prices but they have prevented behaviour adjustment to current prices because people can afford their loans based on debt-service rations. He thinks the federal government should increase the qualification rate for mortgages, thereby giving consumers not as much access to debt.
On the thorny issue of foreign buyers, which last month saw British Columbia impose a 15 per cent additional property transfer tax on buyers from outside the country, Tal says they are not the main problem in the GTA. He estimates they account for five per cent of saled with 10 per cent made up of satellite sales — money coming from abroad to support a unit occupied by a relative.
He prefers a "flipping tax" on foreigners and a tax for vacant units — something the British Columbia government has given the city of Vancouver the power to enforce as part of its new sweeping real estate regulations.
"The future trajectory of the GTA's housing market is not written in stone. It is largely a function of the ability and willingness of the market to adjust to high and rising valuations," says Tal, who believes the most obvious fix should come from the supply side.