Developers call for changes to Ontario rent-control measures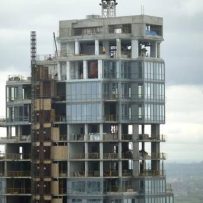 Property developers in Ontario are calling for changes to rent-control measures announced by the province in April, saying they are too harsh and are already causing builders to cancel apartment construction projects.
Jim Murphy, chief executive officer of the Federation of Rental-housing Providers of Ontario, said representatives of his industry have met with Ontario government officials to urge them to remove rent controls on buildings constructed in the future while maintaining the limits on existing properties that have already been built.
This is a catch-all ASF view; only displays when an unsupported article type is put in an ASF drop zone
The province announced new measures on April 20 that would expand rent controls to all rental properties in Ontario and cap the rate of annual rent increases at the rate of inflation or a maximum of 2.5 per cent annually. Rent-control rules previously only applied to buildings constructed before 1991 and there were no limits on rent increases in newer buildings.
Read more: Ontario takes aim at hot housing: 16 changes explained
Mr. Murphy said his industry was "exceedingly disappointed" by the announcement of the new measures in April, saying they were too harsh at a time when the province needs more purpose-built rental housing.
He said his industry has asked the province to exempt new construction from the rent-control rules to provide an incentive to keep building, and to raise the maximum rent-increase cap to 10 per cent from 2.5 per cent.
"We suggested 10 per cent, but we could have discussions – it could be less than that," Mr. Murphy told reporters at an Ontario Housing Summit conference in Toronto. "In other words, you'd never have a doubling of rent, you'd never have a 40-per-cent or 50-per-cent increase."
Ontario Finance Minister Charles Sousa defended the province's 16-point housing plan during remarks at the summit on Tuesday, but said he is willing to talk to builders about their concerns with the rent-control rules.
"We're having those discussions – we haven't committed to that. … I'm always open-minded, but at this point our consideration is to temper demand and increase supply to protect consumers."
Mr. Sousa said the apartment industry built very little purpose-built rental accommodation in past decades when there wasn't rent control on those buildings, so it is unclear if rent control can be blamed for deterring construction.
But David Horwood, vice-president of Hamilton-based Effort Trust Company, which manages more than 10,000 rental units in Southern Ontario, told the housing summit his firm has cancelled at least one planned project and is reviewing others because of the rent-control changes.
He said there was little new apartment construction in prior years because there was weak demand growth for rental properties and financing was expensive. But he said the economics changed over the past few years and many companies such as his had decided to start building.
Mr. Horwood said the industry was surprised by the April changes, which seemed to emerge out of nowhere with little consultation.
"All of a sudden, the rug came out from under us," he said.
Also at Tuesday's summit, experts said they are not confident other measures announced in the Ontario plan in April will have a major impact on home affordability, notably a new 15-per-cent tax on foreign buyers.
Although home prices dropped in May compared with April in the Toronto region, Cherise Burda, executive director of the Ryerson City Building Institute, said most of the policy initiatives have not taken effect yet and the decline is due to the psychological impact on buyers who have stepped back to assess the measures.
"Certainly nothing has changed on the ground since this was introduced – what has changed is the psychology," Ms. Burda said.
Jason Mercer, director of market analysis at the Toronto Real Estate Board, said there was no evidence showing foreign buyers constituted a major part of Toronto's market, so the tax is not necessarily a long-term solution for the supply problems in the market.
The province's measures may not even be fully responsible for the recent cooling in the market, he added, because there were already signs of softening in April before they were introduced, he said.
Ipsos Reid polling data unveiled at Tuesday's event shows the province's measures are broadly popular, however, with 89 per cent of 2,000 people surveyed saying they support the new rules over all and 81 per cent supporting the foreign-buyers tax.