Developers answer the call for housing outside downtown core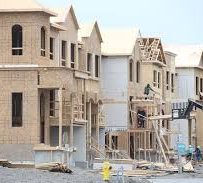 Housing affordability is a significant conversation that is taking place across the country, especially in high-density, urban cities. Even as the risk profile for Toronto and Vancouver housing markets have come down to "moderate" levels, the fact remains that the demand hasn't gone away, and that means that prices are remaining out of reach for many people.
British Columbia in particular, is seeing more people choose to live outside of the Vancouver core or being compelled to live in surrounding regions to find appropriate housing. Their demands, however, haven't changed: they want to live in convenient locations that are close to shopping centres and transit, even as they move beyond the downtown area. This means that developers are having to think outside the box of the single-family suburban norm.
Many of these areas lack a lot of options when it comes to housing, and people are increasingly demanding more variety in developments in order to meet their needs.
Hari Homes is a developer in British Columbia that is catering to this shift in demand. Their recent revitalization project, Chalet, is meant to increase density in Delta, B.C., in order to keep young families in the area. With Chalet, they didn't want to build towers, but instead wanted to create something that would compel various swaths of the community to take advantage of the units.
The development plan includes units that range from 491 square feet up to 1,300 square feet and sidewalks that connect the community to local schools and amenities. They are particularly paying attention to affordable units for first-time buyers who are struggling to find other options in the area, given that a single-family home in Delta are older and still at least $900,000, said Aloke Chowdhury, managing director of Hari Homes. This puts them out of reach for a lot of middle-income buyers, such as people who are newly married or who have small families.
"The thing you have to understand is that the land prices are going up day by day," Chowdry said. Hari Homes bought the land for Chalet five years ago and began work in 2017, but if the land had come available today, Chowdry expects it would be three times more expensive. From a developer's perspective, he continued, "if they don't make the small units, they would not be able to provide affordability to the people."
According to a report published last year by GWL Realty Advisors (GWLRA), neighbouring suburbs of Toronto and Vancouver have seen substantial growth and demand overflow because neither city has added sufficient housing to account for recent population growth.
GWLRA is specifically building new rental housing in both cities, with over 4,000 units in the development pipeline in Toronto.
"Young families migrating to outlying areas is driving rapid population growth in these markets—along with retail demand as this is a prime spending demographic. GWLRA continues to seek grocery-anchored shopping centres in these fast-expanding nodes and recently purchased Sumas Mountain Village in Abbotsford as part of this strategy," writes Wendy Waters, vice president of research services and strategy at GWLRA.
"We are running out of land, people have to understand that," Chowdry said. "I have gotten some resistance in this neighbourhood that this neighbourhood will be ruined, or that traffic will be creating more chaos with the hi-rises coming. We cannot control the traffic, because the population growth is there."
New immigrants are supporting population and housing growth in Canada, and big cities are obvious choices for those new to Canada.
Developers and municipalities are increasingly having to come together to figure out plans for new projects that may have previously not been considered, particularly in high-demand cities. Chowdry says that all of the local cities in the lower mainland—Vancouver, Richmond, Burnaby, New Westminster—are intensely focused on planning ways to create more affordable housing options available.
That includes rentals as well; Chowdry says that developers are being encouraged to come up with more rental housing solutions than they would've considered in the past.