Developer Uses Passive House for Better Affordable Housing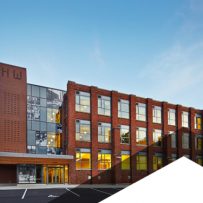 Building as many homes as possible, as cheaply as possible, could seem like the best way to create affordable housing. But, like with most things, you get what you pay for. Spending money up front to create energy-efficient buildings with lower maintenance and operating costs is a better approach.
Developers like Hamilton-based Indwell believe that low-energy design and construction are the smart way to build affordable housing.
"It's actually quite doable to reduce energy use and get a better building," says Graham Cubitt, Indwell's Director of Projects and Development.
Indwell's energy efficiency journey
Indwell's first major construction project was the Perkins Centre in Hamilton in 2011. At that point, Cubitt's design team just wanted to create a high-performing building with 46 studio apartments and a community space.
Over the following years, the team continued to improve the energy performance of their projects. In 2016, they learned about the "Passive House" standard for energy efficiency. Following Passive House standards can produce buildings that consume up to 90% less heating and cooling energy than conventional buildings.
After touring some Passive House projects, Indwell was convinced. They first applied "passive design" when turning a former tavern into a mixed-use building featuring 57 apartments and various commercial spaces.
The elements of passive design
Passive design methods often mean relatively simple and inexpensive improvements. Cubitt mentions 5 key elements:
An airtight building envelope, which minimizes heating and cooling loss by air leakage.
High levels of insulation, so the building doesn't lose heat through its envelope.
Eliminating or reducing thermal bridging through the envelope to further reduce heat loss.
Using high-quality windows.
Placing windows in such a way as to maximize daylight and occupant experience.
"Building to Passive House standards isn't without challenges, but it's not onerous," Cubitt says. Indwell has shown that low-energy design can be both a practical and innovative way to build more and better affordable housing.