Dethroned as Canada's Biggest REIT, RioCan Races to Get Smaller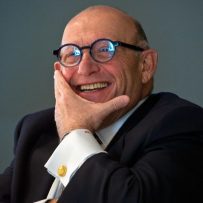 Never mind being No. 1. Ed Sonshine is too busy trying to Amazon-proof his Canadian shopping-mall empire by turning them into hip urban oases.
The chief executive officer of RioCan Real Estate Investment Trust has inked deals to sell 19 assets in the past four months, part of his drive to unload about C$2 billion ($1.6 billion) worth of properties. At the same time, he's tearing up some of his malls to develop apartments, trying to capitalize on the rental boom and insulate RioCan from the rise of e-commerce. By 2020 he wants more than 90 percent of rental revenue to come from Canada's six major urban markets, up from about 75 percent now.
"I learned a long time ago that having the title of Canada's biggest REIT is not something that is one of my prizes so I don't see this as a threat at all," Sonshine, RioCan's founder, said in an interview at the company's Toronto headquarters. "I'm busy trying to get smaller."
Earlier this month, Choice Properties REIT, the real estate arm of Loblaw Cos., agreed to buy Canadian REIT for about $3.1 billion — a deal that will give it more access to industrial and office space and topple RioCan from its long-held title as Canada's biggest REIT by market value. Retail REITs have lagged Canada's S&P/TSX Capped REIT Index over the past two years amid a decline in mall traffic and companies are pushing into other sectors including apartments and offices.
RioCan is moving quickly. It's already closed deals or is under firm agreements for about C$512 million worth of properties with C$200 million more under conditional contract, While most of the deals have been off-market, the company is planning to market up to C$500 million worth of properties in the next two months, said Sonshine. RioCan is planning to sell about 100 properties altogether.
"I'm pretty comfortable that we're going to hit our numbers," Sonshine, 71, said.
A major migration to metropolitan areas is underway globally, Sonshine said. "So that's where we've got to start focusing our assets because that's where you're going to get rent growth, more demand for space and that will be where you get population growth."
Part of the revenue used from RioCan's sales will go toward the development of as many as 10,000 residential units in Canada's major markets, called "RioCan Living."
"There's less demand for retail space but there's a lot of demand for great residential apartments," Sonshine said. "So I said, well, let's just rip down all, or part of, our shopping centers and replace it with medium-rise or, depending on location, even high-rise apartments and then just put new retail on the ground floors of those buildings because there still is retail demand, it's just very different."
Sonshine points to a 36-story building across from his office window in midtown Toronto as the best example of his vision: a new rental building located near the subway, a large shopping mall, offices and restaurants. RioCan has five buildings under construction in Calgary, Ottawa and Toronto so far, and is aiming to have at least three more by the end of 2018.
New RioCan rentals will include 'tech packages' with automated concierges, lockers and cold-storage to appeal to the new trend of online grocery shopping, while common areas could include study or co-working spaces as previous amenities such as gyms, party rooms and swimming pools fall out of favor.
Closing Window
Rising interest rates may soon counter profits from building rental housing, developers said. REITs, seen as income-producing investments, have come under pressure in general as the Bank of Canada has raised interest rates three times over the past past 12 months. RioCan units have lost 12 percent over that time.
"The window as far as viability in terms of the business side of rental development is closing," Jason Turcotte, vice president of development at Cressey Development Group, said in a phone interview, adding that at least half of the Vancouver-based company's portfolio is rental. "Rental development is super, super sensitive to interest rates."
Sonshine agreed rising rates could be a major barrier to creating affordable rental housing in markets like Toronto or Vancouver.
"I'm a prisoner of the municipalities and it can take a year to get a building permit and that's after you spend two years getting zoning — it's a lengthy regulatory process, it's not an easy game," he said. "The big advantage to us is owning the land already and having some income coming in from it."
— With assistance by Maciej Onoszko