Deadline to File Ontario Accessibility Compliance Reports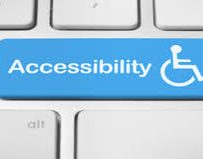 December 31, 2014 Deadline to File Accessibility Compliance Report
All private and non-profit organizations with 20+ employees must file an accessibility compliance report by December 31, 2014.
Under the Accessibility for Ontarians with Disabilities Act, businesses and organizations with 20 or more employees are required to report on their policies and practices to make their services accessible to people with disabilities.
This reporting relates to customer service accessibility only, and is not related to accessibility of and modifications to buildings or property for those with physical disabilities.
The reporting process is very basic, and should not take very long to complete (most reporting questions only require "Yes or No" answers). Below are some useful government websites that fully describe the steps you should take.
1. Info on Filing your Accessibility Report: http://www.mcss.gov.on.ca/en/mcss/programs/accessibility/customerService/report_online.aspx
2. Three Steps to filing your Accessibility Report: http://www.ontario.ca/government/file-accessibility-compliance-report
3. Sample reporting questions: http://www.mcss.gov.on.ca/documents/en/mcss/accessibility/Questions_onesource_EN.pdf
4. PDF Guide to Filing Your Accessibility Report: http://www.mcss.gov.on.ca/documents/en/mcss/accessibility/Guide_private_en.pdf
To file your report online, your company will need a One-Key ID, which you can quickly obtain here: https://www.iaa.gov.on.ca
For more information or questions about this reporting requirement, contact the Accessibility Directorate at toll-free 1-866-515-2025 or visit https://www.ontario.ca/contact-us
This news story brought to you by:
Federation of Rental-Housing Providers of Ontario (FRPO)
20 Upjohn Road, Suite 105
Toronto, Ontario M3B 2V9
Tel: 416.385.1100 Fax: 416.385.7112