David Azrieli dies at age 92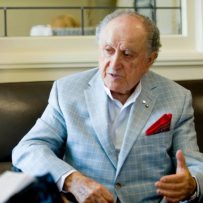 David Azrieli, Canadian billionaire and real estate tycoon, dies at age 92
David Azrieli, the ninth-richest person in Canada, died on Wednesday at 92.
The Montreal resident became known as a king to some but his beginnings were much more humble.
Mr. Azrieli, whose family fortune was estimated to be worth US$3.1-billion by Forbes, started out life in 1922 in a small village in Poland. At the age of 17 in 1939, he was forced to flee as he stayed one step ahead of Germany and its Nazi regime.
Only Mr. Azrieli and a brother among his family survived the Holocaust, which claimed both his parents, another brother and a sister.
He landed in British Mandate Palestine in 1942 where he was recruited to join the Haganah, the Jewish paramilitary organization that would become a key part of the future Israeli Defense Forces. Recruited to the Zionist cause he would support through his life, Mr. Azrieli would go on to fight in Israel's 1948 War of Independence.
He only stepped down as chairman of his Tel Aviv-based Azrieli Group last week, Israeli media reported. He died in his country home in Ivry-sur-le-Lac, north of Montreal.
"In Israel he is known as the king of the shopping centres," said Dori Segal, the Israeli-born chief executive of First Capital Realty Corp., a dominant player in Canadian retail property.
In the early 1980s, Mr. Azrieli decided to take what he had learned about construction, design and development to Israel and opened the first enclosed shopping centre in the country.
Mr. Segal recalls there wasn't even a Hebrew word for shopping mall before Mr. Azrieli came along. So Mr. Azrieli came up with kenyon which in Hebrew is a combination of parking lot and shopping.
"That's what they are called now in Israel, kenyons. You don't say 'let's go to the mall,' you say 'let's go to the kenyon'," said Mr. Segal.
The Azrieli Group sill owns 13 shopping malls in Israel and some of the largest office projects in the country, including the Azrieli Center in Tel Aviv. It also owns a 4.8% stake in Bank Leumi Le-Israel Ltd.
In 2010, he pulled off one of the biggest initial public offerings in Israeli history by selling off a 25.1% stake in the company for $700-million.
Mr. Azrieli moved to Montreal in 1954 and would earn a bachelor of arts degree from the Université de Montréal before starting his real estate career in 1957 with the construction of four duplexes in the city.
He founded Canpro Investments Ltd. in the early 1960s with the development of high-rise residential buildings, including the 250-room Hotel des Artistes that would house the musicians and other artists who performed at Expo 67.
Mr. Azrieli courted controversy in the 1970s in Montreal when he built the Sofitel Hotel by demolishing the Van Horne Mansion, which had been a historical landmark.
'I believe that successful people should give back to the community. When I say give back to the community it is not only money, it is also time and involvement'
The billionaire would later move on to larger commercial projects in Southern Ontario, building the largest shopping mall in the National Capital Region, Les Promenades de L'Outaouais in Gatineau.
"I always loved the particular building I was working on at the time. This may be why I was always very conservative and never extended myself by trying to do many projects at the same time," he was quoted as saying, in a release put out by his family's charitable organization, the Azrieli Foundation.
Co-workers recall that even into his late 80s he was still working, spending full days at the office and only taking breaks for lunch or a short nap.
"I live summers in Canada and winters in Israel, which is the best of both worlds," he told The Financial Post in an interview in 2010 when he was 88.
In that same interview, he said one of the reasons he started doing business in Israel was because he was a passionate Zionist. "I wanted to do something for Israel because I am a Zionist and I love the country," he said. "I brought Canadian know-how and experience and had the good fortune of having the energy and the right people."
He was also a committed philanthropist and both personally and through the Azrieli Foundation he supported causes and initiatives in education, architecture and design, Holocaust education, developmental disabilities, scientific and medical research and the arts.
"I believe that successful people should give back to the community. When I say give back to the community it is not only money, it is also time and involvement," said Mr. Azrieli.
Story by: Gary Marr 
With a file from The Canadian Press