Creating Effective Print Advertising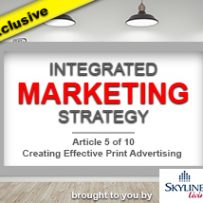 Story by: Sarah Rodrigues | Skyline Living
In June's article on online advertising, I discussed how most ads in the rental industry have now gone online. However, print advertising still has its uses, and can prove very effective in specific situations.
For all styles of print advertising, the key is targeting your message appropriately to maximize impact while minimizing cost. You want to be where renters are looking. This means selecting the right publication, location, ad frequency, and wording choice to attract the tenants you want.
Classifieds
Classified ads were once considered the "standard" for the industry, and prospective renters would spend evenings scanning the columns, circling promising options. Though many papers have put their classifieds online, the traditional newspaper classified ad is still alive and well. What has changed is that not every rental needs a classified ad.
For example, classifieds generally work well for senior buildings, as seniors are not as familiar with the online environment. Classifieds also tend to perform better in smaller communities where the local newspaper is read more thoroughly. Classified ads in free newspapers can also do well, as prospective renters can just pick the paper up from the grocery store or local coffee shop.
Since you're paying for classifieds by the word, make sure to include only what will be important to your prospects, and don't forget the basic information like phone number, address, price, and number of bedrooms. It can be difficult to make an ad stand out in the classifieds – there are options for increasing the visual impact of an ad that may be worth investing in, but use them sparingly.
Display Advertising
Display ads are the traditional print ads often seen in newspapers and magazines. They can take up a small corner or an entire page. This type of advertising tends to be expensive, especially in colour. However, that extra spend can be worth it for upscale apartment and condo communities, and particularly new developments.
When researching display advertising, make sure to ask the publication about their audience. If a magazine caters specifically to seniors and your building is for students, that won't work. If a publication doesn't come out for six months and you have vacancy now, that may not be the best spend.
Advertorials
An "advertorial" is a print piece that looks like an editorial or article, but actually advertises your product at the same time. For example, Skyline Living recently wrote an article for a senior's magazine that offers advice on downsizing to a rental home. This is useful advice for readers, and also advertises our senior apartment communities.
These are paid pieces, since they are advertising your business, but often come with the option of adding display advertising in the publication as well. The benefit of advertorials is that because they look like articles, they are more likely to get read and shared.
Non-Traditional Print
You may have to think a little outside the box with this one, but there are many options for print ads that can help you reach renters. For example, ads in student handbooks, Chamber of Commerce directories, restaurant menus, or hotel & tourism guides may provide a non-traditional opportunity for attracting your target market.
Signage & Outdoor
Don't neglect your signage, posters, and outdoor advertising! Follow the same process as for creating other print ads: what is the right style, where is the best location, and what will people seeing it want to know?
Tips for Making Print Ads Count
Determine your target market and select print ads that appeal to them.
Have a headline or call to action that will attract attention.
Include the information the audience will want to know. Ask yourself: What does my target prospect care about?
Make it visually appealing. When possible, make use of building or unit pictures and stock photography.
Include your logo and other brand elements.
Always link back to your website.
As with online ads, the most important tip for making print ads count is to track and measure the response. Next month, we'll look at different tools and strategies you can implement to ensure your advertising strategies are effective.
About the author: Sarah Rodrigues is the Marketing Coordinator for Skyline Living, a division of the Skyline Group of Companies, which operates 142 apartment communities in 46 cities across Ontario, Quebec, Alberta, and British Columbia. She has worked in communications, project management, advertising, and marketing in a number of industries. Feel free to connect with her on LinkedIn.