Creating a Social Media Plan for Multifamily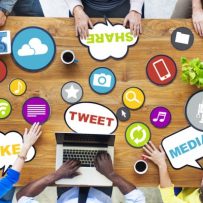 Story by: Jade Smith
The multifamily industry has seen a change in the way we think about apartment marketing. Though a fairly new medium, there is evidence social media has the power to change the way we do business in property management.
Why Leverage Social Media?
Social media has moved from just a source of entertainment value, and grown into a viable marketing industry.
A recent Pew Research survey found that, as of September 2014, 81% of adults use the internet at least occasionally. 52% of online adults use two or more social media sites, which is evidence of an increase in multi-platform use.
Think social media interaction is just for Millennials?  Think again. For the first time, more than half of all online adults 65 and older (56%) use Facebook, the current reigning champ of social sites.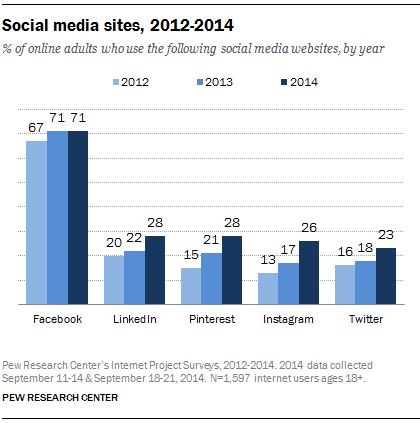 As a property manager, it is important to understand potential residents and prospects make up these social media user groups. Popular platforms such as Facebook, Twitter, and Instagram have become a trusted source of influence and communication. In order to establish a genuine connection with these demographics, it is crucial to establish a social media presence.
Creating a Social Media Plan
Creating a personalized content plan can help you to grow and cultivate an audience online. Because of the changing nature of social, there is not an exact science for success. But with the right plan in place, the path to success becomes much more obtainable.
Here are three steps needed for a social media plan to be effective:
1. Keep the Content Interesting
Develop a content mix that will engage your audience and encourage sharing.  For content, choose from photos, videos, and articles to draw people in and inspire interaction. Share pictures from happenings at your community, such as super bowl parties, resident mixers, and charity events. Act as a news source for your residents. You can use social media pages to facilitate contests, by encouraging residents to post photos of wacky sweaters, costumed pets, or decorations.
Feeling creative? Post a picture collage of the property or create a funny meme for resident engagement. The sky is the limit.
Your content mix can include new, original content, as well as existing content. Think of them as a fresh set of eyes and repurpose flyers and posters made previously. Help give your audience a glimpse into the resident experience.
2. Review Analytics
When marketing on social media, don't underestimate the importance of analytics. Think of analytics as performance data, which helps you understand the sentiment of your audience. Which types of posts receive more engagement?  Do they interact less frequently on weekdays or weekends? Do you find your likes increase after you post Facebook photo albums?  Capture this user data and segment your audience into groups, based on interaction. Some of the more popular social sites like Facebook and Twitter even offer this data free. Use this information to help you measure your return on investment in social media.
3. Stay Active
Growing your audience effectively will require constant attention and maintenance. If time constraints are your worry, there are tools available that make posting and interacting easier. Check out Hootsuite and Sprout Social, both sites that can help with scheduling posts and monitoring. A good idea is to designate 1-2 staff members to continually monitor your social media outlets. Make sure everyone is on the same page, these trusted team members should have a thorough understanding of the core message you want your property to convey online. For crisis management reasons, know which staff members have access. If a situation arises on a social media page, it could affect your online reputation.
If you would prefer outside help, find a company that provides social media management services. The important takeaway is to remain active and keep the conversation going. With all of these options available, find out what works best for you and your property.