Creating a Positive First Impression at an Apartment Showing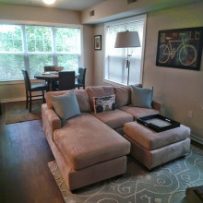 When it comes to apartment leasing, first impressions are everything. Before renters even step into a model unit, manicured landscaping, clean common areas, and a clean office play a huge role in shaping customer perception. The little details provide prospective residents with a peek into the management style, community upkeep, and living experience.
As an apartment marketer you're not only marketing a place to live, but also a lifestyle. Here are some tips to maintain a professional, welcoming apartment community that will speak volumes to renters.
Is your signage turning away prospective renters?
Trace the steps of an apartment shopper from the curb to the leasing office. What are prospective renters seeing when they pull up to your community? Signs directing visitors to the parking area and leasing center should be clear. Replace faded, tattered, or chipped signs as well as those that might be sending an unpleasant message. A renter met with a series of "no parking," "out of order," or "closed" signs on your door will take away negative cues. An abundance of these types of signs communicates an uptight management that neglects repairs, so pay extra attention to your messaging around the property.
Is the leasing office welcoming and professional?
A clean, organized communicates professionalism and confidence and builds credibility. Give your office a professional-yet-comfortable atmosphere by paying attention to the details. Use a few spare minutes every morning to tidy up brochures, wipe down the coffee counter, and clear desks of paperwork and clutter. An office with tattered furniture, desks piled with paperwork, and a mess of brochures in the entry conveys that you're disorganized and have too much on your plate.
Is the apartment unit up to snuff?
The model unit is kept sparkling clean, but how about the actual unit that's being advertised? If you're following up a showing of the model unit with one of the available apartment, the listed unit needs to be in just as great of a condition as the model unit. You're setting prospective renters up for disappointment otherwise. Use the time before the showing to wipe down the surfaces, sweep the floors, and freshen up the unit. The leasing office and model unit set the tone for your business, but your product is what makes or breaks a prospective renter's decision.
If you want to give renters a positive first impression of your property, you need to pay attention to the small details. A mowed lawn, clean office, and always-full coffee pot might not seem to matter in the long run, but they're significant to the apartment shopper when it's all they see in their 30-minute visit.
Story by: Jennifer Chan