CREA worries Ottawas new mortgage rules will dampen home sales in 2016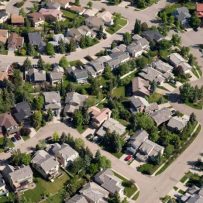 Story by: Garry Marr | Finacial Post
The Canadian Real Estate Association is raising concerns that new mortgage rules announced by Ottawa last week could dampen housing sales next year.
CREA voiced the worries as it released a forecast Tuesday that existing home sales in Canada are set to reach 504,000 in 2015, an eight-year high.
_
_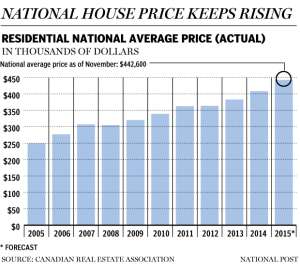 Gregory Klump, CREA's chief economist, said the changes to the mortgage rules — an increase in the minimum downpayment from five per cent to 10 per cent for the portion of a home purchase above $500,000 — "certainly plays into the collateral damage story in Alberta." He was referring to reports that as much as 10 per cent of sales could be impacted in Calgary alone by the rule change, which takes effect Feb. 15.
Ottawa is trying to slow down more active markets in Toronto and Vancouver. The $500,000 threshold is seen as especially targeting those markets where average prices surpass that level. At the same time, Calgary, where a significant percentage of homes trading in the $500,000 to $1 million range, could also be heavily impacted.
CREA said unforeseen strength in housing markets in British Columbia and Ontario forced it to up its forecast for both sales and prices. The numbers might have been even stronger, if the not for the government's rule changes, said Klump.
CREA now expects the average sale price across the country for a home in 2015 to be $442,600, an 8.4 per cent increase from a year earlier — the upward revision driven by average price gains in British Columbia and Ontario as well increases in their proportion of national sales.
While sales will be up five per cent this year over 2014, they are expected to slide by 1.1 per cent in 2016.
Next year the average Canadian sale price is expected to record a more modest 1.4 per cent increase to $448,700.
"Interest rates are now expected to begin rising later than previously expected. Now expected to remain on hold until late next year, low interest rates will continue to support sales and prices next year," CREA said.
CREA said Tuesday November national home sales rose 1.8 per cent from October on a seasonally adjusted basis. On a non-adjusted basis, November sales were up 10.9 per cent from a year ago.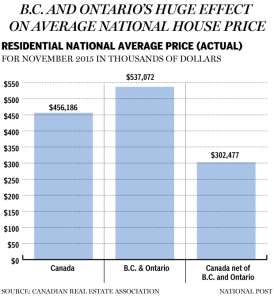 "Recently announced changes to mortgage regulations will likely boost sales activity in the short term, as buyers jump off the fence to beat the changes before they take effect next year," said Pauline Aunger, president of CREA.
Phil Soper, the chief executive of Royal LePage Real Estate, said he thinks the new rules will impact homeowners, but believes the federal government acted prudently.
"The problem with the previous regulatory changes is they treated all regions of the country equally," said Soper. "At the current time we have two overheated markets and many, many balanced markets. This new approach is a rational way to address that."
"At the margin, the rules dim the outlook for 2016," said Doug Porter, chief economist with Bank of Montreal who noted the changes come as the Bank of Canada considers a negative interest rate. "If rates get cut again, they'll roughly offset the latest moves out of Ottawa."