COVID-19 AFFECTING RENTAL MARKET AS RENTS DECLINE IN MOST MAJOR CANADIAN CITIES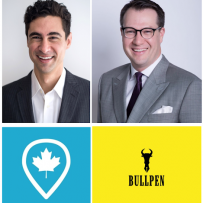 Average monthly rents were down in April over March in Toronto, Vancouver, Calgary and Ottawa, according to the monthly National Rent Report from Rentals.ca and Bullpen Research & Consulting.
Also, rental apartments and condo apartments listed on Rentals.ca were down 3.2 per cent and 4.6 per cent respectively month over month, even though average rents in Canada were unchanged in April over March at $1,842.
But the coronavirus pandemic is starting to have an effect on the rental market.
All the cities and areas on the chart below are showing monthly declines in average rent for rental apartments and condominium apartments, with the exception of Montreal and Regina.
Several areas saw double-digit decreases — the former municipality of York saw a monthly decline of 12.6 per cent, with Edmonton and London both declining by 11.3 per cent.  Victoria and Ottawa decreased by 8.7 per cent, while Calgary and Winnipeg declined 7.6 per cent. Vancouver and Toronto declined by 6.8 per cent and 6.0 per cent respectively.
Toronto led all 33 cities on the list for average monthly rent in April for a one-bedroom home at $2,125, and for a two-bedroom at $2,669. Eight areas of the Greater Toronto Area finished in the top 10 for most expensive rent in Canada.
Lethbridge was the most affordable city on the list for renters with average monthly rent for a one-bedroom home at $897 and average monthly rent for a two-bedroom at $989.
Commute times to work play a role in where prospective renters search for a place to live.
On average people in the Vancouver Census Metropolitan Area (CMA) are looking for a place to live 16 kilometers away from their place of employment in April, down slightly from 17 in March, according to Local Logic.
Prospective tenants in the Toronto and Montreal metro areas are looking for a rental the same distance away from work at 14 kilometers.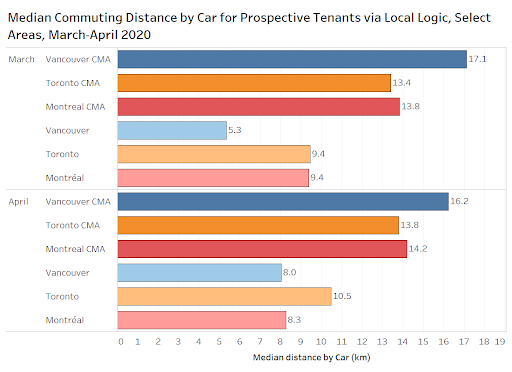 Other takeaways from the May National Rent Report include:
There has been much talk about COVID-19's impact on the short-term rental market with travel restrictions in place. This can play out with more furnished apartments listed for long-term renters. On Rentals.ca, 25 per cent of Quebec's rental and condo apartments were furnished; 17 per cent were furnished in Ontario and 15 per cent were furnished in British Columbia.
On a provincial level, Ontario had the highest rental rates in April, with landlords seeking $2,141 per month on average for all property types. British Columbia had the second highest rental rate at $1,946 per month, while Newfoundland and Labrador had the lowest at $1,001.
Average rent declined from March to April in three large provinces: Alberta dropped 5.7 per cent; Ontario showed a 4.6 per cent decrease and British Columbia was down 0.7% monthly.
In Toronto, the areas experiencing the biggest declines are the prime downtown markets ranging from an 8 per cent to 13 per cent decline month over month. The Yorkville area has also experienced a decline of 9.4 per cent monthly. These areas have plenty of AirBnB activity, which has likely depressed rental rates.
"The average rental rate for all listings on Rentals.ca in Canada did not decline in April, but the COVID-19 pandemic is having a big impact on the national rental market in Canada," said Ben Myers, president of Bullpen Research & Consulting. "Larger single-family and townhouse units are remaining on the market, pulling the average rent up, while other major landlords are offering a free month of rent or other substantial incentives to entice tenants.
"When looking at rental apartments and condo apartments only, monthly average rental rates declined by 6 per cent or more in Toronto, Vancouver, Calgary, Winnipeg, Ottawa and Edmonton."
"The sharp monthly declines in the average rental rates in major cities in Canada was stark," said Matt Danison, CEO of Rentals.ca. "The average two-bedroom unit in old Toronto was offered at $2,669 per month in April, the lowest rate in 16 months. One-bedroom rental rates haven't been this low in Toronto since 2018.
"With the gradual opening of the economy, this may be the low point for rental rates in some time if tenants feel comfortable enough to move."
Rentals.ca recently published seven predictions on how the pandemic could reshape the rental market.
Of note from the report, people in Canada looking to rent care about proximity to grocery stores much more than before the outbreak — a 13.5 per cent increase compared to January averages.
And, renters care much less about public transit (a 14 per cent drop), and they are much more interested now in cycling (a 17.3 per cent increase).
"Since COVID-19, renters' lifestyle demands have changed and have not rebounded to pre-COVID times; we see renters are looking to live in more cycling- and pedestrian-friendly areas, with better access to groceries and better access to schools," said Vincent-Charles Hodder, CEO of Local Logic.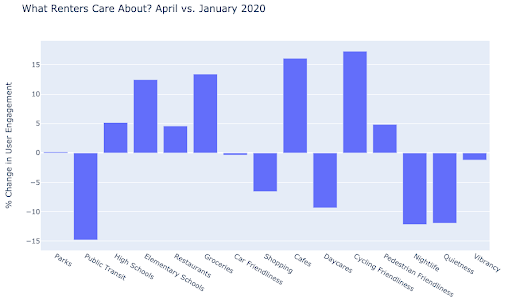 The National Rent Report charts and analyzes monthly, quarterly and annual rates and trends in the rental market on a national, provincial, and municipal level across all listings on Rentals.ca for Canada.
The Rentals.ca numbers show vacated properties that better reflect current values. The figures better represent the actual rents a potential tenant would encounter when seeking to rent an apartment.
Story by: Rentals.ca and Bullpen Research & Consulting