Could Rogers or BCE spin out a REIT?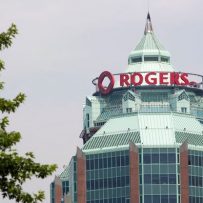 Regional U.S. telecom provider Windstream Holdings Inc. plans to spin off some of its assets into a REIT, a move that could light a fire under every telecom lawyer and banker in Canada, just as it likely has in the U.S.
Since REIT rules in Canada are more difficult and complicated than in the U.S., it is clearly not a given that Canadian telecom companies will follow Windstream's lead. But were a fourth wireless player to emerge, the pressure on free cash flows and EBITDA margins could speed up the REIT conversion consideration process.
Robert Bek, a telecom and cable analyst at CIBC World Markets, noted that most U.S. names in the sector traded sharply higher on the news. He thinks this could push the shares of Canadian players higher, even without any meaningful REIT chatter north of the border.
However, Mr. Bek remains bearish on the group, particularly in wireless, due to regulatory uncertainty, maturing fundamentals and the potential for interest rate hikes.
"Were this prospect of isolating hidden value to develop further, we would have to lighten our stance somewhat," he told clients.
Mr. Bek noted the Canada Revenue Agency would need to weigh in on the matter if any Canadian telcos were interested in a REIT, as would relevant regulators and potentially the federal government.
The analyst also pointed out that U.S. names have been far more supportive of REIT conversions than their Canadian counterparts, highlighting AT&T Inc.'s spinoff of its cellular towers in 2013.
On Rogers Communications Inc.'s Q2 conference call last week, management was asked if it would consider using its real estate assets to capitalize on current market forces and help lower the company's leverage ratio. The response was clear that Rogers has no desire to trade its real estate for cash at the moment.
"But that's not to say that this couldn't become a more relevant topic in time," Mr. Bek said. "With so much uncertainty on the competitive front, there could be a time in the not-so-distant future when it would make sense for Canadian players to entertain the merits of monetizing their real estate portfolios."
Story by: Jonathan Ratner