Costliest cities: See how Canadian cities compare to pricey outposts like Paris and New York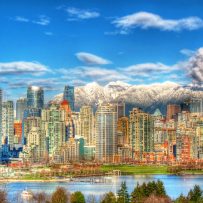 Vancouver may repeatedly top quality of life lists, but it's still the most expensive major Canadian city to call home. Mercer's 2014 Cost of Living Rankings, which compares living expenses for expatriates in 211 cities across the globe, ranked the British Columbia city at number 96.
It was the only Canadian city in the top 100 though Toronto was close behind at 101. Montreal and Calgary followed at 123 and 125 respectively.
Each of the Canadian cities on the list moved down the list compared to the 2013 ranking. Vancouver fell 32 spots from its place at 64 in 2013, while Toronto dropped 33 spots after holding the 68th place. Montreal and Calgary both moved down 28 spots from their positions last year.
Why did the cities drop? "The Canadian dollar weakened significantly against the US dollar, which accounts for the major slips we saw in this year's ranking," said Ed Hannibal, Partner and Global Leader for Mercer's Mobility practice.
On the flip side, New York City, which came in 16 overall, moved up from number 24 last year. It was also the costliest city in the Americas, beating out Los Angeles and Sao Paulo, Brazil for the top spot.
The survey is based on data that compares the cost of more than 200 goods and services in each location, including housing, transportation, food, clothing, household goods and entertainment. Two African cities, Luanda in Angola and N'Djamena in Chad, topped the list.
"While Luanda and N'Djamena are relatively inexpensive cities, they are quite costly for expatriates since imported goods come at a premium," said Hannibal in the news release.
"In addition, finding secure living accommodations that meet the standards of expatriates can be challenging and quite costly as well. This is generally why some African cities rank high in our survey."
Here are the top 10 costliest cities in the world for 2014:
1. Luanda, Angola
2. N'Djamena, Chad
3. Hong Kong, Hong Kong
4. Singapore, Singapore
5. Zurich, Switzerland
6. Geneva, Switzerland
7. Tokyo, Japan
8. Bern, Switzerland
9. Moscow, Russia
10. Shanghai, China
The Costliest cities in the Americas, 2014:
1. New York, USA
2. Sao Paulo, Brazil
3. Los Angeles, USA
By: Monika Warzecha
Photo: Nick Kenrick/Flickr