Converting an old factory into new affordable housing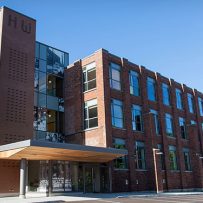 A former factory building that closed in 1990 has reopened in 2015 as a new, bright and comfortable 54-unit residence. Managed by Indwell, a local charity, Harvey Woods Lofts provides affordable housing and a measure of independence to low-income residents living with mental illnesses or other disabilities, who require housing with supports.
For residents like Dennis, the new housing is helping him to create a better life. "I was homeless, sometimes crashing on people's couches, sometimes on the street. But I'm back on my feet now, and Harvey Woods is the only chance I have to have my own apartment, one that I can afford," he says.
The new building not only accommodates the needs of individuals, it's also meeting the diverse needs of the community.