CONSIDER MAKING VACANT UNITS AVAILABLE FOR "EMERGENCY SHELTER"?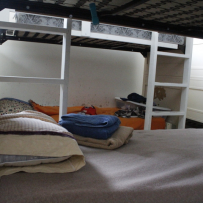 COVID-19 is likely to have a devastating impact for student housing operators and, quite possibly, for multi-res landlords generally, given the financial challenges resulting from tenants vacating tenancies to seek lower cost housing options. One area of housing for which there is now substantial demand is "Emergency Shelter". Emergency shelter includes short term housing for victims of domestic abuse. Such housing may also be needed for "front line", high risk medical professionals, first responders and "essential service" workers who are seeking, on an urgent basis, alternative safe housing options, either for their families or themselves, to live separately to avoid infecting spouses and children with coronavirus. Emergency housing also includes short term housing or "transitional housing" for homeless persons.
There is government funding available for the provision of emergency shelter and transitional housing, particularly for victims of domestic abuse and the homeless. In the case of medical professionals and first responders seeking additional housing for themselves or their families, the gesture of providing such housing at a substantial discount may make practical and financial sense in the context of helping COVID-19 front line workers. In cases where you properly provide "short term living accommodation" as emergency shelter, you are not prejudiced by renting units out at a substantially discounted rate; section 5 (f) of the RTA creates an exemption from the RTA for such housing. Similarly, for longer term "transitional housing", there is an RTA exemption (s. 5.1) but it is subject to a several conditions, including a requirement that all or part of the funding be provided through government programs.
If you decide to provide discounted emergency shelter or transitional housing, you should ensure that leasing documents and occupancies will meet the legal test to fall within the exemptions. If you enter into a "head lease with a social service or government agency to lease a block of units, it is important to ensure the "head tenant" either pays market rent or, where the use provided at a substantial price discount, that the head tenant implements, complies with, and enforces the short term emergency shelter or transitional housing uses. Legal advice is recommended if you decide to implement discounted emergency shelter or transitional housing options because if you don't fall within the exemptions, you will be prejudiced by the rent control and security of tenure provisions of the RTA.
COVID-19 has unleashed "novel" challenges for Canadians generally, and particularly for the multi-res housing industry. As circumstances evolve, housing options for persons in need of emergency shelter and transitional housing are also evolving. For landlords who may soon find themselves with vacant units, consideration of providing alternative, low cost housing may be an opportunity to contribute to "bending the curve" and to give back to the broader community burdened by COVID-19.
Story by: Cohen Highley LLP Lawyers