Condo-quality rental apartments on the rise in Canada, says Colliers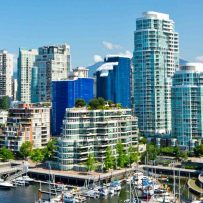 Story by: Josh Sherman | BuzzBuzzHome
As inventory and affordability of traditional forms of housing wanes, a new trend is emerging in Canada. Buyers are snapping up condo-quality, purpose-built rental apartments more frequently, according to a new report from Colliers.
"Almost every large Canadian city is witnessing one, or multiple, developments of this nature," said Matthew Bruchkowky, a director at Colliers, in a statement.
The report, which studied the multi-family housing market in eight Canadian cities — Vancouver, Calgary, Edmonton, Toronto, Ottawa, Montreal, Winnipeg, and Victoria — defines a condo-quality rental apartment as a home with high-end finishes, at least four kitchen appliances, in-suite laundry, and access to building amenities such as fitness facilities, social lounges and swimming pools.
Outlining the benefits of these high-end rentals, Colliers managing director Oliver Tighe told BuzzBuzzHome News they provide more flexibility, cost less up front than ownership and are "more liquid."
He highlighted that when someone buys a condo they pay a mortgage, utilities, condo fees, and property tax — none of which apply to the burgeoning class of rentals.
"It ends up being cheaper to rent," said Tighe.
Developers too also often end up benefiting.
"A condominium-style apartment rental provides the developer the opportunity for longer-term cash flow," says the report, adding that marketing these units also costs considerably less.
Still, regardless of any gains, Tighe estimates that condo-quality, purpose-built apartments only make up a fraction of overall sales.
Citing Calgary, Tighe said, "I would suggest they represent less than 10 per cent of the market share."
Property sales across the broader multi-family market — which includes owner-occupied condo buildings as well as purpose-built rental developments — were up in six of the eight markets studied in the Colliers report.