Condo dwellers fight the short-term rental boom in highrise neighbourhoods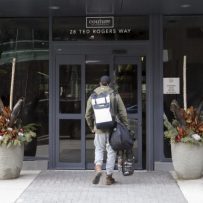 Security concerns, parties, crime and wear and tear on amenities have condo owners fighting back against services like Airbnb.
Kahile Gondo has lived in her downtown condo for about five years. But even though it neighbours two of the busiest, most eclectic places in the city — the Eaton Centre and Yonge-Dundas Square — Gondo only recently began locking her unit door when she's at home.
"There's 44 floors in this building with about 10 units on each and I've never had a sense something was wrong," she said.
But when she returned from her Christmas holiday, Gondo, 26, noticed a couple she had never seen before in the hallway. As the days passed, more strangers appeared on her floor. She also smelled smoke, something she had never noticed in the past.
"I didn't get a good feeling in the pit of my stomach. I told my brother (who lives with her), 'We should lock our doors because I don't feel safe,' " she said.
Security is part of the bargain for the growing number of Toronto condo residents, who share their roof, lobby, parking, gym and pool with their neighbours.
But for many tower dwellers, Toronto's booming short-term rental industry has turned their buildings into virtual hotels, with strangers threatening their peace and security, and adding to the wear and tear of common elements paid for by their maintenance fees.
Condo corporations are fighting back. But without the legal language in their condo declarations — the developer-written document that acts as a constitution for the building — they are at pains to stop the practice.
Many declarations include legal language that prohibits the condo corporation from interfering with rental arrangements.
"If the condo declaration has language that allows the practice — that trumps the condo bylaws. You can only change it with the majority vote that is virtually impossible with so many absentee landlords," said Thorben Wieditz of Fairbnb, a hotel workers union-led coalition that wants the short-term rental industry regulated.
Short-term rental landlords, meantime, are increasingly cunning in evading restrictions, meeting tenants off-site to hand over keys and fobs, strategically fastening lockboxes to nearby fences, even disguising the location of their listing on rental websites.
Couture Condos near Bloor St. E. and Jarvis St. has experienced the negative side of the short-term rental boom. Visitor parking is constantly full, leaving no space for residents' guests. Parties spill into the hallways and when security responds to complaints, there is no one in the unit registered with the building.
But Couture has a couple of things other buildings don't: language in the declaration prohibiting rentals of less than six months and a condo board president, Mara Epstein, who scours rental sites in her off-hours looking for violators.
The language and the vigilance have helped evict 10 tenants who, in the past three years, were illegally subletting their apartments. In most cases, the violators were long-term renters subletting their space, said Epstein, a self-described condo "ninja."
In some cases, the tenants simply sleep on the couch and give up their bedrooms to raise a little money toward rent, she said.
"Initially, people were not being as clever. They were using real pictures (of their units) and real names," she said.
Now, short-term renters have learned to describe their location as being a short distance from its actual address. They also post close-up pictures instead of wider shots of the space.
That hasn't stopped Epstein.
"I have a very good visual memory, so I know what the finishes are, the base appliances and the sightlines of the windows. I know what the layouts are," she said.
It is up to unit owners to act when the condo corporation identifies the suite as being improperly rented. In cases where the unit is repeatedly being sublet by a long-term tenant, it is also up to the condo unit owner to serve that tenant with an N5, a legal eviction document.
"Failure to comply will result in the following: the corporation's attorneys (at the expense of the unit owner) will immediately commence legal action," says a notice by the condo corporation and its property manager.
"If there is a violation found and we have people in the building who are considered trespassers because they're not registered and they're in possession of keys that are never meant to be out of possession of the tenant, that's immediately a violation of their lease agreement," Epstein said.
"We have had instances where the occupants have refused to leave and the police have been called to escort them out," she said.
Short-term rentals are simply an affront to fairness, say struggling condo officials.
"The costs to the building are being borne by everyone — occupants, long-term renters," said Davin Garg, vice-president of the condo board at Maple Leaf Square near the Air Canada Centre. "Customers of Airbnb and the unit owners using Airbnb aren't paying their fair share."
As short-term rentals have expanded, so too have false fire alarms. Each false alarm costs the condo $410 per truck. The fire department usually dispatches three or four trucks per alarm.
The source of the alarms is typically clustered near units suspected of being short-term rentals and tends to coincide with sporting or entertainment events that draw tenants to those apartments, Garg said.
"It's not that we're completely in the dark about Airbnb — who's using them and when — it's that we don't have full and often actionable information about what units they are and when they're being rented to Airbnb customers," he said.
The concierge and building security see people dragging suitcases in and out on the weekends but, with 872 units and about 2,000 occupants, it's difficult to determine exactly who is a short-term renter and who is a legitimate guest or occupant, Garg said.
A recent surveillance suggests 39 units are being used as short-term rentals, with the majority of tenants staying one night only.
The condo could be wired for more cameras, but it would require some serious retrofitting and it would be expensive. Besides, Garg wonders if that's what residents want.
"This is their home. They live here. They just don't want to think they're being monitored all the time," he said.
Then there's the issue of taxes, said Todd Hofley, founder of the Liberty Village Residents Association, a neighbourhood that is a magnet for short-term renters.
Not only are these de facto hotels not paying a commercial tax rate, the hosts aren't paying income tax on the rent they collect, he said. As an actor, Hofley gets a T4A to submit to Revenue Canada every time he takes a job.
What would be wrong with Airbnb doing the same thing? he wondered.
"There's millions upon hundreds of millions of dollars a year that is also being lost in revenue to federal coffers and provincial coffers for this kind of stuff, which of course has to be made up somewhere else," he said.
Airbnb recently released a report suggesting its business puts $417 million into city coffers through the guests who spend money on restaurants, shopping and entertainment.
But it's also affecting the city's supply of affordable rental housing, Hofley said, and that in turn affects the cost of home ownership.
That is not Airbnb's intent, said a company spokesman, Christopher Nulty.
"We do not want people to be using our platform in a way that impacts the availability of housing," he said, adding that Airbnb has worked with different cities to tailor solutions that address their issues.
In Chicago, for example, Airbnb has agreed to abide by a prohibitive building list.
"A condo board could come to the city and say, 'We've made a decision not to allow short-term rental listings in our building' and the city would then work with us to have those listings removed from the platform under a voluntary memo of understanding," Nulty said.
"We are providing the city of Chicago with registration information from our host community. That, paired with this idea of a prohibitive buildings list, makes it possible more easily for the city to enforce the rules," he said.
It isn't clear whether that would be effective in Toronto unless the condo board were able to provide a declaration such as Couture's that prohibits short-term rentals. Garg doubts it would be much use to the buildings that can't provide such legal proof.
When he was in Toronto this month, Airbnb's global policy director met with the mayor and the premier's offices.
It is expected that city staff will report to council this spring or summer on what, if any, short-term rental policies Toronto should adopt.
Fears grow over electronic fob copying in condos
It's the highrise dweller's key to everything from the front door to the parking garage and gym. But condo board officials are worried about the proliferation of electronic fob copying they fear could compromise building security.
To discourage condo-dwellers from losing their fobs, many buildings charge upward of $50 for replacements or additional copies — where they are permitted — for residents wanting to provide a key to their parents, child care provider or cleaner.
But the Star recently visited two downtown shops that copy fobs in under five minutes at a lower cost.
FobCopy.ca near Sherbourne and Bloor Sts., took less than two minutes and charged $35 to copy a Star employee's fob.
Employee Riley Haas simply inserted the fob in a hand-held machine that reads the radio frequency identification and copies it to a chip. The existing machine could only copy one of three different fobs, but Haas said there's a new machine on order that would copy more kinds.
Haas said the company has been copying fobs since last spring but "it's a good week when we do five."
It was busier at the start of the school year when students were copying their fobs, he said.
Jacobs Hardware has a similar machine near Queen St. West and Spadina Ave. Staff there say they might copy 12 to 20 fobs a week.
Todd Hofley of the Liberty Village Residents Association said fob copying is one more challenge in securing condos.
"When somebody comes in and scans the fob it's an electronic signature. We know exactly whose fob that is, and the owner. But if you've got a bunch of cloned fobs, we can't tell which one is cloned and which one is the original," he said.
"If we can't offer security in our buildings, then it can just become a disaster," Hofley said.
At Maple Leaf Square a single fob gets you in the front door and into each unit, unlike most condos that still use a traditional key for apartment entries, said Davin Garg, vice-president of the condo board.
With short-term rentals it's pretty easy to predict when they are likely to be empty mid-week.
"You rent out your unit for one weekend but that person now, if they wanted to, could have access to the building and the unit whenever they want because they can clone the fob," he said.