Community Laundry Rooms are getting a Makeover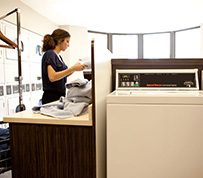 Canada is hopping. The economy is stronger than ever and growing. The large millennial population is ready for home ownership. And home prices continue to rise. However, higher prices may mean a good portion of this millennial group may be renting for a longer period of time than normal before becoming first-time homebuyers.
Now add to the equation a multi-housing market that is starting to see new construction. Bottom line – owners of apartment properties need to make sure locations are positioned to attract and retain residents.
One often-overlooked area where a refresh can do just that is the laundry room, said Craig Madson, North American sales manager for Alliance Laundry Systems, a world leader in multi-housing laundry room equipment.
"Residents spend a significant amount of time in the laundry room. So anything property owners can do make their time here more enjoyable and less of a chore can pay dividends in attracting and retaining residents," Madson said. "One of the trends we are seeing is a focus on more inviting colors and materials, which helps transform the space from a stark institutional feel into something much warmer," he said, adding that amenities such as Wi-Fi and TVs also add to the experience, which millennials seek.
On the equipment side, first and foremost the washers and dryers have to work. The quickest way to turn that laundry room from an amenity to a frustration is for residents to encounter out-of-order signs or issues starting machines. This is why property owners gravitate toward true commercial machines that are able to stand up to heavy demands of a laundry room. Residential machines are not up for this challenge and, as a result, incur frequent repair costs.
Madson said residents want controls that are simple and intuitive to operate, in order to get them in and out fast. Equally important are control features that enable residents to tailor cycles to their specific needs, such as the ability to add an extra wash or rinse. Today's modern controls offer additional flexibility through multi-level vending, meaning the ability to select the water temperature best suited to the load. Property owners benefit from being able to charge a premium for hot water washes that cost them more due to the energy required to heat the water.
Flexibility also is extending into how residents pay for their wash and dry cycles
"As a leader in this market, Speed Queen is quite focused giving residents a variety of payment options," Madson said, adding that residents want convenience, and it is not convenient to carry around change for laundry day.  Mobile solutions and other payment options likely will become more common.
Another equipment trend that can benefit both residents and property owners, is installing larger capacity commercial front load washers and dryers. Again, the focus here is on convenience – enabling residents to shorten the time spent doing laundry. The high G-force extraction of these washers also removes more water from loads and shortens dry times – another bonus for residents. For property owners, the benefit is being able to charge a higher vend price for the cycles.
Property owners focused on leveraging technology, flexibility and commercial quality equipment, along with more trendy colors and décor can turn their laundry rooms into true amenities, Madson said.
"We are definitely seeing these spaces become far more attractive than in the past. Best of all, they reduce construction costs versus in-unit hook-ups and are far more efficient," he said.