Ontario's CO Alarm Regulation Now in Full Force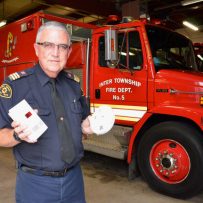 Ontario's new CO Alarm Regulation (as described in previous FRPO Bulletins) is now in effect.
This new regulation was required following the passage of Bill 77 by the Legislature. FRPO has worked with the Fire Marshall's Technical Advisory Committee in the development of this proposed regulation. Some key CO Detector installation and maintenance requirements are:
In Multi-Unit Buildings:
• If fuel burning appliance in suite – install adjacent to sleeping areas.
•If fuel burning appliance in building service room – install in service room and all suites adjacent to service room, adjacent to sleeping areas.
• If garage in building – install in all suites adjacent to garage, adjacent to sleeping .
Additional Obligations for Landlords and Tenants:
• Landlord to provide CO and smoke alarm maintenance instructions to tenant.
• CO and smoke alarms in rental units must be tested annually and tested when battery is replaced, changes are made to electric circuit or change in tenancy.
• CO and smoke alarm testing in rental units performed by landlord. Testing done by activating alarm test feature.
• Tenant required to notify landlord if CO and/or smoke alarm inoperable.
CO Alarms shall:
(a) be permanently connected to an electrical circuit with no disconnect switch between the overcurrent device and the carbon monoxide alarm,
(b) be battery-operated, or
(c) be plugged into an electrical receptacle.
It should be noted that some municipalities already have local bylaws requiring CO alarms, and the Ontario Building Code requires the installation of carbon monoxide alarms in homes and other residential buildings built after 2001. The new provincial Regulation sets out uniform installation and testing requirements across Ontario.
The full Regulation is available at: http://www.e-laws.gov.on.ca/html/source/regs/english/2014/elaws_src_regs_r14194_e.htm 
For more information, contact:Mike Chopowick, 416-385-1100 x21