CMHC warns that Canadian housing market is overvalued in most major cities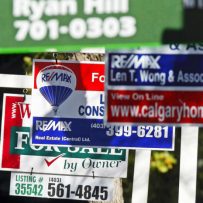 Story by: Garry Marr | FinancialPost
The situation is code red for four of the country's housing markets.
Canada Mortgage and Housing Corp., which colour-codes cities according to the degree of risk in the housing market, gave four cities — Toronto, Winnipeg, Saskatoon and Regina — the dubious distinction of red for what it called strong evidence of problematic conditions.
But is that as dire as it sounds? CMHC, the Crown corporation responsible for advising the government on housing policy, won't speculate on the possibility of a crash or exactly how much markets are overvalued, but it does paint a risky picture for real estate.
"What we are really trying to promote is market stability," said Bob Dugan, chief economist with CMHC, in explaining the agency's latest quarterly market assessment, released Thursday.
Saskatoon is a newcomer to the list after finishing in the lowest category for problematic conditions last quarter.
There are a number of conditions that go into deciding the so-called state of those markets; they include overheating, price acceleration, overvaluation and overbuilding.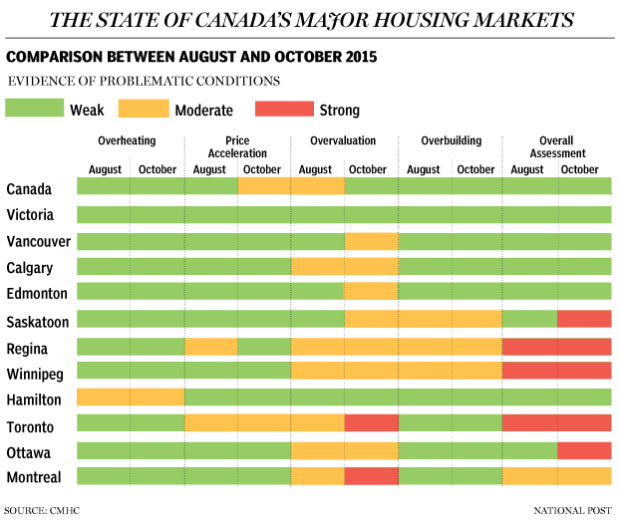 "When we look at whether something is problematic, we examine all these factors for what levels have been associated with getting into trouble," said Dugan, adding this is just an early warning and doesn't mean a crash is inevitable.
Overvaluation is pretty widely spread across the country with 11 of the 15 markets in Canada falling into that category.
"Problematic overvaluation conditions in local housing markets could be resolved by moderation in house prices and/or improving economic conditions," said Dugan.
CMHC doesn't quantify the risk or address prices in this survey, but statistics from the Canadian Real Estate Association for September show the average home price across the country reached $433,649, up 6.1 per cent from a year ago.
Greater Toronto prices were up 9.4 per cent from a year, while Winnipeg prices were up four per cent during the period. Prices in Saskatoon and Regina prices are actually down from a year ago.
CMHC did issue its own forecast of the existing home market in a previous release this month, which predicted prices nationally would only rise 1.3 per cent in 2016 and 1.4 per cent in 2017.
Dugan said the objective of the company's quarterly report is to help everyone in the housing market from consumers to banks to developers make more informed decisions.
"Everyone who participates in the housing market can benefit from having more information," said Dugan.
In Toronto, CMHC said price acceleration in the first half of 2015 was more a reflection of the sales of detached homes and stronger price growth in higher end homes.
The acceleration of prices in the Toronto region can't be matched by economic and demographic fundamentals.
"One of the reason overvaluation (in the Toronto area) is becoming a bigger issue is not because the economy isn't growing but because prices are growing faster than the fundamentals," said Ted Tsiakopoulos, regional economist for Ontario for CMHC.
In Vancouver, Canada's priciest city, CMHC says it is only now detecting "moderate evidence of overvaluation" and adds that overheating, acceleration in house prices and overbuilding is not a concern for that market.
Richard Sam, CMHC principal market analyst for Vancouver, pointed out that price distribution is the key factor in determining health of the West Coast city's market.
The average sale price of homes in the top 20 per cent of the Vancouver market is about $2.6 million to $2.7 million, but only about $830,000 in the rest of the market.
"It's the upper end properties that seem to be pulling up the averages," said Sam.