CMHC STUDY HIGHLIGHTS ONTARIO'S RENTAL SHORTAGE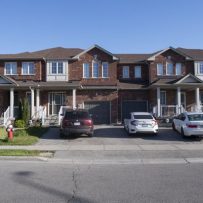 Nearly one in six Toronto homes has a basement apartment or secondary unit, according to new research, highlighting the shortage of rental properties and the housing crunch in many parts of Ontario.
There were close to 75,000 Toronto houses with secondary units, including laneway houses and above-garage apartments. That is equivalent to 15 per cent of the city's houses, according to Canada Mortgage and Housing Corp.'s analysis on secondary units in Ontario.
Brampton has the second-highest number, with more than 13,500 secondary units, or 10 per cent of its houses, followed by Mississauga with about 10,000 units, or 7 per cent of its houses, according to CMHC's Housing Market Insight.
The study is the first comprehensive look at the secondary units in the country's most populated province, which is grappling with surging home prices and rental rates.
The federal agency analyzed millions of property records through Ontario's Municipal Property Assessment Corp. to determine the share of secondary units in the province's 28 largest cities or Census Metropolitan Areas.
The report, which uses 2019 data, found secondary units are more common in cities that have had experienced years of low vacancy rates, such as Toronto, Mississauga and Guelph. They are also prevalent in areas with a shortage of traditional rental apartments, condos or subsidized housing. That includes Brampton, Barrie and Ajax.
"Persistently low vacancy rates were strongly correlated with cities having a lot of secondary units," said Anthony Passarelli, CMHC senior analyst and the report's lead researcher.
In Guelph, nearly 10 per cent of houses had secondary units, with Barrie and Ajax at 7 per cent and 6 per cent, respectively. In contrast, in places such as Ottawa and Kitchener with more traditional rentals such as purpose-built apartments, the share of secondary units was about 3 per cent.
Mr. Passarelli said there wasn't a direct correlation between high home prices and a high percentage of secondary units. For example, in the pricey Toronto suburbs of Oakville and Burlington, about 2 per cent of the houses had basement apartments or other secondary units.
But in places including Greater Sudbury and Thunder Bay, where the average selling price of a home is less than $400,000, the percentage of houses with secondary units was above 8 per cent.
In Toronto and nearby Brampton and Mississauga, the average sale price of a house is much more than $1-million.
"It is very challenging for people in Toronto to find affordable housing," said Garima Talwar Kapoor, policy and research director at anti-poverty foundation Maytree.
Rising home prices and rental rates have put many residents in a bind.
Previous CMHC research shows lower-income households face "significant challenges" in finding places to rent. Just 0.2 per cent of the rental accommodation in the Vancouver and Toronto regions are affordable to low-income households.
Before the pandemic started, the growth of short-term rentals, combined with rising housing prices and a steady flow of immigrants and newcomers to the province, kept rental vacancy rates low and rent high.
Although the vacancy rate has increased during the pandemic, overall renter demand is expected to rebound as the economy reopens. Years of low vacancy rates has pushed demand for rental properties. Private-equity funds, real estate investment trusts and other big investors are moving into the space to buy and convert existing properties into apartment buildings. As well, it has spurred near record levels of condo building in the Toronto region and beyond.
"To turn housing into an investment class for private holders and companies, it exacerbates the housing insecurity that low- and moderate-income people are facing," Ms. Kapoor said.
Story by: The Globe and Mail