CMHC sees regional differences in Canadian housing markets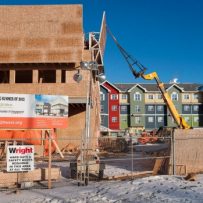 Canada Mortgage and Housing Corp. says significant regional differences in home construction will be apparent over the coming years, with slower activity in most areas dragging down overall construction in 2016 and 2017.
The Ottawa-based agency is estimating that between 181,300 and 192,300 housing units will be started this year.
That's expected to drop to 172,600 units and 183,000 units started in 2017.
CMHC says slower activity in oil-producing provinces such as Alberta will be partly offset by increased activity in British Columbia and Ontario.Both ranges have been lowered from CMHC's previous outlook released late last year.
The Crown corporation also says there will be a decline in the number of previously owned homes that are resold in 2017 from this year but the average price is expected to increase over the same period to as high as $501,100 in 2017.
Citing data from the private-sector Multiple Listing Service, CMHC says it expects 2017 existing home sales will drop to between 485,500 units and 508,400 units from between 501,700 and 525,400 units in 2016.