CMHC sees oil-shock pain spreading to Prairie housing market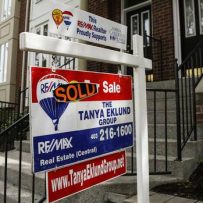 Story by: TAMSIN MCMAHON | The Globe and Mail
Canada's federal mortgage insurer is preparing for pain from falling oil prices to begin spreading to the Prairie housing market in the coming months, although the energy sector's woes have not yet pushed many homeowners in Alberta to default on their mortgages.
Slightly more than 1,000 Alberta homeowners were behind in their mortgage payments in the third quarter, an arrears rate of 0.28 per cent, Canada Mortgage and Housing Corporation reported. While those figures have risen slightly since the start of the year, the province's arrears rate was still below the national rate of 0.35 per cent.
Plunging oil prices have played havoc with the housing market in Calgary, where existing home sales have plummeted more than 25 per cent and the average price has dropped 2.5 per cent. Despite a rapidly cooling housing market in Alberta, CMHC reported that roughly 20 per cent of mortgages insured in the second quarter came from the province, consistent with levels at the same time last year, while the average insured mortgage amount rose slightly to $251,262.
Deteriorating economic conditions take some time to filter into the housing market, said CMHC vice-president Steven Mennill. "These things take some time to work through the system," he said. "We do expect to see slightly higher rates and possibly claims a number of months down the road." CMHC has seen its business in Alberta shift toward higher-quality borrowers this year, he added.
Outside the Prairies, falling interest rates and hot housing markets in British Columbia and Ontario helped sustain CMHC's business in the third quarter. Nationally, the average insured loan rose to $251,262 from $246,273 in the same period last year, while the average interest rate on a CMHC-insured loan dropped to 3.02 per cent from 3.37 per cent.
The federal mortgage insurer paid $76-million in claims in the third quarter, down $38-million from the same period last year – a drop CMHC attributed to "economic conditions that continue to drive an active real estate market with strong resale prices."
Total outstanding CMHC insurance fell to $525-billion from $543-billion at the end of last year, part of the agency's plan to shrink its presence in the housing market. CMHC has a legislated $600-billion limit on its mortgage insurance.
The share of total outstanding mortgages insured by CMHC fell below 40 per cent for the first time, reaching 39.8 per cent in the third quarter, down from 42.7 per cent a year ago and more than 45 per cent in 2013. Total mortgage securitization volumes rose to $425-billion, up from $422-billion in the third quarter of 2013. Almost 32 per cent of outstanding Canadian mortgages are insured through CMHC.
Follow Tamsin McMahon on Twitter: @tamsinrm