CMHC predicts moderation for Canada's housing market in 2015 and 2016 as oil provinces face risks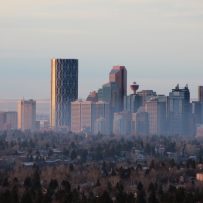 Story by: Monika Warzecha  |  BuzzBuzzHome
Nationwide, the Canada Mortgage and Housing Corporation (CMHC) is predicting moderation in the housing market in 2015 and 2016, though oil-dependant regions are vulnerable to "downside risks."
The first quarter 2015 Housing Market Outlook suggests housing starts in Canada will drop one per cent in 2015, while MLS sales are expected to remain static. Price growth is expected to remain modest this year as well, with an expected increase to the MLS average sale price of 1.5 per cent.
But all eyes are on the oil-producing provinces as news rolls in of declining sales in city centres such as Calgary. The Prairie provinces, which until recently experienced high levels of net migration and relatively robust employment rates, are now bracing for further volatility in the energy market.
"Lower oil prices will negatively affect oil-producing economies like Alberta, Saskatchewan, and Newfoundland and Labrador, which will only be partly offset by the positive effects of lower exchange rates and interest rates across all provinces," said Bob Dugan, Chief Economist for the CMHC.
In the Prairie Highlights report, Regional Economist Lai Sing Louie said the oil situation will have a "dampening effect" on economic growth, particularly in Alberta and to a lesser extent Saskatchewan.
Housing starts are expected to fall from 40,590 units in 2014 to 36,000 in 2015 and 34,500 in 2016. Saskatchewan is expected to see a decline from 8,257 in 2014 to 7,300 in 2015 and 7,200 in 2016. Manitoba, on the other hand, should see more stability with starts keeping close to 2014 levels with 6,300 starts in 2015 and 6,300 in 2016.
The dramatic sales figures appear a thing of the past. Although Alberta experienced a nine per cent jump in 2014 after counting 71,773 sales, the sales tally for 2015 is expected to fall to 71,100, before picking up steam again in 2016, rising slightly to 71,600 as economic conditions improve. MLS sales in Saskatchewan are expected to decreased from 13,868 in 2014 to 13,600 in 2015 and hover at this his level in 2016 as well. The forecast in Manitoba points to small growth with the 13,782 MLS sales in 2014 rising to 14,000 in 2015, then inching up and 14,200 in 2016 as employment growth increases.
Once again, Alberta recorded some of the greatest price gains in 2014 after seeing a boost of 5.2 per cent. The future looks much more modest with lower demand and an increase in listings pushing up price growth to two per cent in 2015 to an average of $407,100 and $415,000 in 2016.
In Saskatchewan, the average resale price will see growth of just under two per cent, inching up to $302,500 in 2015 from $298,359 in 2014, then increasing to $307,800 in 2016. In Manitoba, the average resale price rose 2.1 per cent in 2014 and is expected to increase by 2.3 per cent to $272,400 in 2015 then $278,800 in 2016 as sales trend higher.
Here's how the major Prairie cities are expected to fare: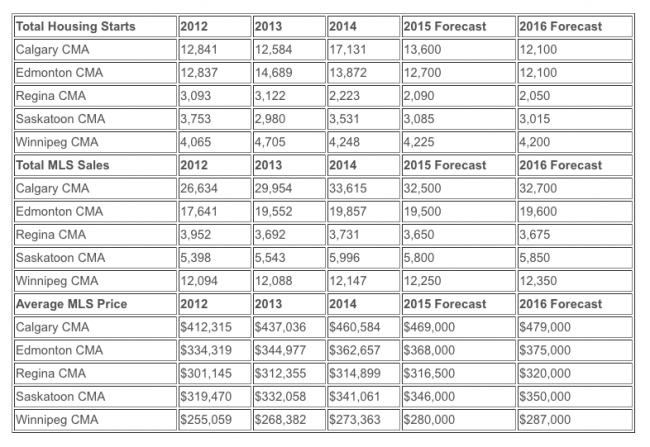 To see the full report on the Prairies, click here.