CMHC partners to improve housing data in Canada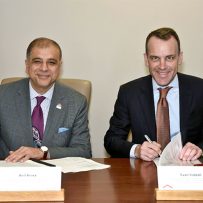 At Canada Mortgage and Housing Corporation (CMHC), we see ourselves as Canada's authority on housing. If we don't have the answers or expertise in-house, we can tell you who does. That's part of being a trusted source of information on housing.
Being an authority means that we continuously work to maintain the data, tools and partnerships we need to have a complete picture of Canada's housing markets. It also means that we need to identify the data gaps that stand in the way of bringing that picture into sharp focus. To that end, CMHC and Statistics Canada have signed a memorandum of understanding to strengthen their partnership, bring together their expertise and work in collaboration to fill those data gaps. It's a partnership that will benefit all Canadians.
Data gaps exist in three key areas: housing finance, needs and markets
In the housing finance area, we are looking to collect more information on the entire mortgage sector, whether insured by CMHC or not. To obtain this information, we recently accessed a dataset from a credit reporting company that covers 85% of the total mortgage and credit universe. This dataset provided us with new insight on mortgage trends, which we analyzed and made available to Canadians to help them make informed decisions about the housing market.
However, we cannot do it all on our own. We also partnered with Finance Canada, the Bank of Canada, Statistics Canada and the Office of the Superintendent of Financial Institutions to explore the new data more fully. Through our collaborations, we will equip Canadians, businesses and governments with the information they need to make timely decisions, assess risks and develop policies.
Last year, we held consultations with Canadians, subject matter experts and stakeholders on the development of a National Housing Strategy (NHS). Consultation results revealed the need for more data on social and affordable housing — a need that was also highlighted in Budget 2017, which allocated $241 million to CMHC to improve data collection and analytics. As we prepare to unveil the NHS, we are compiling a database of social and affordable housing stock, developing new surveys and expanding our ability to link datasets to obtain greater insight into social and affordable housing in Canada.
In addition, we are modifying existing surveys to gather more information on housing markets. For example, we have expanded our survey on new residential construction to gather information on condominium unit prices and square footage, as well as conversions and demolitions. This will allow us to develop more timely estimates of the size of housing stock across Canada. To better assess the role of foreign ownership in the housing market, we have been collecting information on the share of foreign ownership in major condominium markets since 2014, which we will now supplement with statistics on the rental market ownership structure and the proportion of rental housing owned by foreign investors.
We will continue working with other federal partners to identify and address data gaps. This includes working closely with Statistics Canada to support the development of the Canadian Housing Statistics Program (CHSP), which aims to provide Canadians with detailed, comprehensive data on housing in Canada. The first release of CHSP data will cover foreign ownership for all types of dwellings in Toronto and Vancouver and will be released in December 2017.
CMHC's close partnership with Statistics Canada and other departments will ensure Canadians can better understand the factors influencing the country's housing market and help them make informed decisions about where they choose to live.