CMHC flags Canadian housing market risks with first ever red warning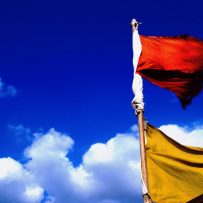 Story by: Josh Sherman  |  BuzzBuzzHome
This hasn't happened before.
Canada's national housing agency is poised to issue its first ever "red warning" for the country's housing market as a whole, the Globe and Mail reports.
The red warning will officially appear in the Canada Mortgage and Housing Corporation's forthcoming Housing Market Assessment – Canada report, due out October 26th.
Evan Siddall, CMHC's CEO, says the warning addresses the fact that markets beyond Toronto and Vancouver's borders are heating up, too.
"CMHC has recently observed spillover effects from Vancouver and Toronto into nearby markets," he writes in a column he penned for the Globe and Mail.
"These factors will be reflected in our forthcoming Housing Market Assessment," he explains in the opinion piece.
In June, BuzzBuzzNews reported that Ontario markets in the Niagara Region, Hamilton and Burlington were seeing more bidding wars and were actually tighter than the Toronto market.
CMHC puts out quarterly market assessments that evaluate "the evidence of problematic housing market conditions at the national level, and in 15 Census Metropolitan Areas," it says.
In September, Toronto, Hamilton and Victoria led the way in terms of price gains from the previous month, according to the Teranet-National Bank National Composite House Price Index of 11 major Canadian housing markets.
In the third quarter, CMHC said there were strong signs of "problematic conditions in both Vancouver and Toronto.
Nationally, however, the agency assessed the evidence of problematic conditions as being "moderate," which is denoted with a yellow rating.
To reach its assessment CMHC looks at overheating, price acceleration, overvaluation and overbuilding.
"Concerns about elevated prices in Vancouver and Toronto are well known. Affordability pressures hurt lower-income households the most and cause socioeconomic consequences," writes Siddall.
"The conditions we now observe in Canada concern us."