CMHC data shows foreign buyers have almost disappeared from Vancouver market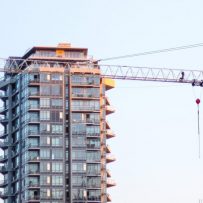 Foreign buyers dropped to one per cent of the Vancouver resale market after being as high as 19 per cent, according to a new report from Canada Mortgage and Housing Corp.
The Ottawa-based Crown corporation's British Columbia office cautions that it's "too early" to determine the long-term or even mid-term impact of the provincial government decision to slap a 15 per cent additional property transfer tax on foreigners, but its data does show the impact of overseas buyers was blunted after climbing rapidly throughout the summer.
"Although the extent to which wealthy foreign buyers/capital have impacted home prices is still unclear and contested, this is widely believed to be one factor driving prices," CMHC said in its report, out Thursday.
The B.C. government started tracking the percentage of foreign buyers on June 10 and over the next 19 days found they made up five per cent of the market. By July 14, a six-week analysis showed foreign buyers were up to 10 per cent of all sales. From July 15 to Aug. 1, they made up 19 per cent of all sales.
However, the new tax on overseas buyers, implemented Aug. 2, was announced on July 25 and encouraged some people to move up their transactions to beat the 15 per cent additional charge. For August, the percentage of foreign sales had retreated to just one per cent.
"The B.C. government points out that on the final business day before the tax implementation (July 29), $850 million worth of sales to foreign resident took place, representing 40 per cent of all foreign investment in real estate during the two months," CMHC noted in its report.
In terms of the impact on the market, the Crown corporation notes the Vancouver market had already peaked in early 2016 before the foreign buyers tax was brought in. August sales were down 40 per cent compared to the average for the first seven months of the year while sales of detached homes dropped 59 per cent. The trend continued in September.
As for prices, CMHC says they have been rising for years and noted the compound annual rate over the past decade is 7.9 per cent with dips recorded in 2008 and 2011. Single detached sales, a more expensive class of housing, have accounted for 44 per cent activity over the past decade and influenced the average price.
CMHC says there are other factors for Vancouver's meteoric rise in prices, including:
• High net worth individuals and people with wealth from home equity contribute to demand for higher priced homes.
• Demand is outpacing supply. Since 2005, 158,000 households were added to Metro Vancouver but only 153,000 units were added to the market.
• The pace of employment growth in Vancouver has exceeded provincial employment growth in eight of the last 10 years,
bolstering consumer confidence and adding to housing demand.
• Low mortgage rates have fed demand and kept monthly payments affordable, off-setting the impact of rising prices.
• Supply shortages with only a three-month supply of active listings in metro Vancouver
• Limited developable land due to geographical issues and land use regulation.
• B.C. building code changes have added to costs.
• Municipal development approval affects time to build houses and adds costs.
• Zoning rules in many municipalities in the region that limit multi-family additions.
"Some suggest that Metro Vancouver residents view housing as an investment more than Canadians in other urban centres do because home prices have risen more consistently in Vancouver. This may impact home buying behaviour and willingness to take on mortgage debt, in effect, concentrating wealth in home equity," said CMHC, noting the S&P/TSX increased at an annual rate of 4.4 per cent over the past 10 years. House prices nearly doubled that return.