CMHC and Stats Canada release foreign buyer numbers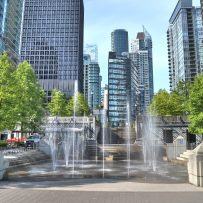 They have been shouldering much of the blame for Vancouver's and Toronto's rapidly escalating housing prices, but foreign buyers, in fact, own less Canadian real estate than originally thought.
They do, however, own more expensive abodes.
CMHC and Statistics Canada just released numbers tracking non-resident ownership dating back to 2014.
Beginning with the Greater Vancouver Area, 4.8% of residential properties are owned by non-residents, however, that number increases in Vancouver proper, where non-residents own 7.6% of residential properties.
That number jumps even higher in Vancouver proper condo apartments, 10.6% of which are non-resident-owned.
Single-detached houses owned by non-residents in Vancouver average just over $2.25mln, and resident-owned single-detached average $1.6mln. Non-residents also own 3.2% of Vancouver's single-detached houses.
In the Greater Toronto Area, 3.4% of residential properties are owned by non-residents, but that number increases slightly to 4.9% in the City of Toronto. Condos in the Toronto region are 7.2% non-resident-owned, but in Toronto proper 8% are owned by non-residents.
The joint survey also revealed that non-resident buyers set their sights on Montreal after the 15% foreign buyer tax was introduced in Ontario and British Columbia.
"The stability and the share of non-resident-owned condos in Toronto and Vancouver, combined with the increase in Montreal after the introduction of the foreign buyers tax in Ontario and British Columbia, may indicate a shift in demand by non-resident buyers," said CMHC's Bon Dugan during a teleconference with reporters. "Other factors attracting demand to Montreal include lower house prices and a relatively strong local economy."
Nun's Island, situated just off Montreal Island, which is known for its lofty homes, has also witnessed a boost in non-resident ownership, who comprised 4.3% of home owners in 2016, and 7.6% this year. Montreal, however, had 0.9% non-resident owners last year, and 1.5% this year.
While it's become indisputable that non-residents own newer and more expensive homes, they don't compose a large enough share of homeowners to have any discernible effect on home prices.
Rather, a chronic shortage of supply coupled with high demand—which will only continue with the inflow of immigrants—and land scarcity are the most likely reasons for the affordability crisis that's afflicting Vancouver and Toronto.