Clark defends Bitish Columbia's role in funding social housing in Vancouver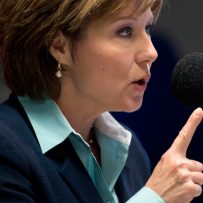 Story by: LAURA STONE AND BILL CURRY
B.C. Premier Christy Clark is defending her government's record on affordable housing but has refused to say whether she will sign on to Vancouver's proposal to build new housing on $250-million worth of city-owned land.
Ms. Clark and Vancouver Mayor Gregor Robertson, both attending meetings in the same Ottawa hotel Thursday, sent conflicting messages about the province's role in funding affordable housing in Vancouver – with the Premier taking credit for a majority of projects, and Mr. Robertson portraying a more collaborative approach as he looks to British Columbia to match hundreds of millions of dollars in affordable-housing money.
Earlier this week, Mr. Robertson offered up $250-million worth of city-owned property to the federal government for new affordable-housing cash – a pre-budget pitch to secure $500-million over five years from Ottawa, along with matching funds from the province.
"Hopefully, the province at least matches the city, and ideally if they match the federal government, we're able to offer even deeper affordability, more social housing and supportive housing in the mix on those sites," Mr. Robertson told The Globe and Mail.
But when asked what her government is prepared to do for affordable housing, Ms. Clark didn't make any spending commitments.
"We are thrilled that the federal government wants to finally get involved in supporting social housing, if they do," she told reporters Thursday. "In British Columbia, the province – not the federal government and not the cities – has been carrying the bulk of the load, the financial load on creating affordable housing."
Ms. Clark added that it is "fantastic" that cities and the federal government now want to contribute, particularly to house those who suffer from mental illness or addiction.
"You can't get better if you don't have a roof over your head. And that's always been our approach with this, is we want to support the treatment of people with mental illness and addiction, but you can't do that until you house somebody," she said.
In a follow-up e-mail, an official in Ms. Clark's office said the discussion around funding "has really just started," and that the B.C. Housing Ministry will work with Vancouver, other municipalities and the federal government on affordable housing.
Mr. Robertson, among 19 big-city mayors attending meetings in Ottawa this week, said the city and the province have had a "good working relationship" on 14 recently completed housing sites. But the work is now done and he is looking to fund 20 more.
"We're using this opportunity with a receptive federal government to invite them back to the table to be a funding partner," he said. "Hopefully, all three levels of government are contributing."
Meanwhile, officials are going through lists of federally owned properties in Canadian municipalities to determine whether any of them could be offered up at low or no cost toward new affordable-housing construction.
In an interview, Families, Children and Social Development Minister Jean-Yves Duclos said officials in his department are working to identify land that can be put toward affordable housing.
"They've started to do this exercise and it's a relatively clear process at the start," Mr. Duclos said. "Then once we move forward, we will of course have to engage with municipalities and provinces and territories to see how we can make the best use of these assets."
But most mayors canvassed by The Globe on Thursday suggested that cash – or a mix of money and land – was most needed to build more affordable housing.
"We think that it really should be a partnership between the three orders of government, with the funds flowing from the province and the feds. Land, we're happy to provide," Edmonton Mayor Don Iveson said.
"Our challenge is we have land, but we don't have as much money to put on the table. So land is a valuable asset as well," Ottawa Mayor Jim Watson added.
Mr. Duclos and Infrastructure Minister Amarjeet Sohi share responsibility for administering the $20-billion social infrastructure fund, a 10-year program that was promised by the Liberals during the election campaign that would go toward projects such as affordable housing and child care.
Mr. Sohi is also responsible for two other new infrastructure programs: a $20-billion fund that will go toward public transit and a $20-billion fund for green infrastructure.
Big-city mayors and other municipal leaders are trying to craft their requests for infrastructure in ways that could tap into all three funds.
Mr. Sohi said Thursday he is building a "strong" relationship with provinces to help bring all of the partners to the table to invest.
Earlier in the day, a coalition of seven affordable-housing groups assembled in Ottawa to ask the federal government to invest $1.5-billion to build 100,000 social-housing units over five years.
"We're confident that the government has gotten the message on the need to invest," said Jeff Morrison, executive director of the Canadian Housing and Renewal Association. "Clearly we'll see in their first budget whether those promises actually align with what they deliver upon."