CITY LAUNCHES AFFORDABLE HOUSING NOW PROGRAM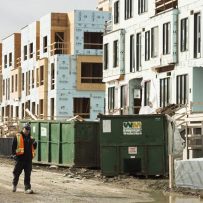 Following unanimous Council approval last month, the City of Winnipeg has launched the Affordable Housing Now Program in support of local affordable housing projects, the City announced Friday. The program offers a range of municipal supports for local projects, including tax incentives, grants, and coordination with resources available through the Canada Mortgage and Housing Corporation (CMHC).
The Affordable Housing Now Program, which is being administered in partnership with CentreVenture Development Corporation, is eligible to project proponents intending to participate in CMHC affordable housing programs under the National Housing Strategy for the development of new rental and non-profit housing.The program will provide $2 million in grants to offset construction and permit fees, offer tax increment financing (TIF) opportunities of up to 80% of municipal incremental tax increases arising from development, and will enable proponents to access existing federal programs that may require support from another level of government.

"The goal of the Affordable Housing Now Program is to ensure we're leveraging all funding opportunities available to housing projects in Winnipeg to meet local housing needs," said Coun. Cindy Gilroy, Property and Development, Heritage and Downtown Development Committee chairperson. "We believe this program can assist in creating 1,500 new affordable housing units in Winnipeg. That kind of impact addresses affordable housing in a meaningful way and increases the safety and well-being of Winnipeg residents."
"Everyone in Canada deserves a safe and affordable place to call home. The COVID-19 pandemic has made it clear that affordable housing is key to Canada's recovery, including in communities such as Winnipeg," said Ahmed Hussen, Canada's Minister of Housing and Diversity and Inclusion. "Our government is committed to helping those who need it most, and this program will make a real difference in the lives of people in Winnipeg. We will continue to do our part to create even more affordable housing that will benefit all Canadians for decades to come."

More information on the Affordable Housing Now Program and details on program application are available at: winnipegaffordablehousingnow.ca.
Story by: Winnipeg Sun