CHICAgo billionaire says apartment boom to continue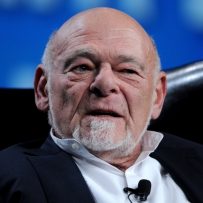 Story by: Alby Gallun
Sam Zell doesn't see an end to the apartment boom anytime soon, saying demographics will continue to work in the market's favor.
The Chicago financier, one of the nation's biggest apartment landlords, remains high on the sector even as the for-sale housing market continues to recover from the crash. For investors, it has been a good place to be as more Americans hold off on home purchases, wary of being tied down by a mortgage, and rent instead.
"The American Dream is freedom, not a house," the Chicago billionaire said at an event last night at the Peninsula Chicago hotel.
That change in thinking among people in their 20s and 30s is one reason demand for apartments has soared since the recession. Rising occupancies and rents have fueled big profits at Equity Residential, a Chicago-based real estate investment trust founded and led by Zell, boosting the wealth of its investors, including Zell himself, the second-richest Chicagoan, with a net worth of $4.9 billion, according to Forbes.
Shares in Equity Residential, the largest U.S. apartment REIT, with nearly 110,000 units, have returned 166 percent since the beginning of 2010, including dividends. That tops a 106 percent return for the Standard & Poor's 500 Index and 145 percent for the Bloomberg REIT Apartment Index.
WAITING TO MARRY
For apartment landlords, "the most significant demographic event has been the deferral of marriage," Zell told the audience at the Peninsula event, sponsored by the Chicago Council of Global Affairs. He was interviewed by New York-based journalist and author Vicky Ward, who recently wrote a book, "The Liar's Ball," about the General Motors Building in New York.
Zell, 73, explained how he got married three days after graduating from college and guessed that 80 percent of his friends did the same thing within three months of graduation. But marriage, children and a starter home in the suburbs come much later for many people today.
"Buying a condo when they're 24 doesn't make sense," he said.
Yet it did during the housing bubble a decade ago, when residential lenders loaned money to millions of borrowers with poor credit, contributing to the global financial crisis a few years later. Getting a loan is much tougher today, and many would-be homeowners are leery of buying after seeing prices crash during the bust.
As a result, the U.S. home ownership rate fell to 64.5 percent in 2014, its lowest level in two decades. In Chicago, the rate fell to 66.3 percent, the lowest level since 1999.
OVERBUILDING RISK
The biggest risk for Chicago landlords is overbuilding. Nearly 6,000 apartments are under construction downtown and expected to open by the end of 2016, according to Appraisal Research Counselors, a Chicago-based consulting firm. Developers are expected to break ground on another 1,700 units that will be completed in the same time frame.
After the event, Zell said demand would be strong enough to fill the new downtown apartments. Equity Residential doesn't own any buildings in the Chicago market, though a Zell-led venture owns Cobbler Square Lofts, a 292-unit property in Old Town.
Zell's other property holdings include Equity LifeStyle Properties, a Chicago-based REIT that owns mobile-home parks and recreational vehicle resorts; Equity Commonwealth, an office REIT also based here, and Chicago-based Equity International, a private-equity firm that invests in overseas real estate firms. He also owns the Waldorf Astoria in the Gold Coast, which is being put up for sale.
'I HAVE NO SHORTAGE OF SYCOPHANTS'
Zell weighed in on many other topics, from the influx of overseas capital into the U.S. real estate market to his philosophy on mentorship. Asked what he looks for in a subordinate, he said he wants someone to challenge him and his ideas.
"I am always looking for people to take me on," he said. "I have no shortage of sycophants."
Though foreign investment in Chicago real estate has been a popular topic, Zell said he didn't think it was a major factor in Chicago.
"This is not New York," he said. "The role of foreign investment in the Chicago real estate market is relatively limited."
EMERGING MARKETS
He also discussed the dangers of real estate investing in emerging markets, where investors can't count on legal systems to protect them. That's why it's important to have a strong and well-connected local partner who can navigate the political system when things go wrong, he said.
"You're basically trading growth for the rule of law," he said. "If there is some kind of political problem, reading the documents isn't going to help you much."
Zell said his experience in China has been mixed. Equity International invested in Chinese residential and industrial developers several years ago, but sold its stakes and now owns one Singapore-based warehousing and logistics company, Redwood Group, with significant holdings in the country.
"We invested in China early and did very well. We invested later and we got our ass handed to us," he said. "When we were early, they couldn't wait to hear our ideas. Later on, they didn't understand English."