Check Mate: Win the Chess Match of Resident Retention in 2 Moves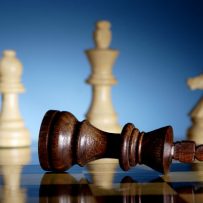 I recently presented a session at an education conference in Toronto. Upon returning home, I found a renewal notice on my front door. Now, I have been in this industry for more than 12 years and I know the renewal drill:
Ninety days prior to my lease expiring, the management team sends notification of its offer. Check.
I, as a resident, then have about a month or so to determine what I would like to do. Check.
I've often said that what we do as property managers is business, but to never forget that for residents, it's personal. Many of us have the unique perspective of walking in both worlds. So here I am, with renewal notice in hand…decisions, decisions.
The Resident Renewal Process is a Strategic Chess Match
The renewal process is much like a chess match. Management makes the first move (renewal notice) and residents respond accordingly. As strategic as chess matches go, it's important to think three or four moves ahead of your opponent. Anticipating the "what ifs" is paramount to winning the match. Management may be thinking, "What if the increase is too aggressive?" The better question should be "What if this resident is still upset about us dropping the ball on that service request?"
Here are two easy moves management teams can execute to ensure the resident retention chess match ends in their favor:
Move 1: Affirm Your Greatness with a Job Well Done
Ever wonder why customer service representatives close their calls by asking "Have I taken care of all your concerns today?" They do this because it breeds loyalty. Most customers will respond affirmatively, and in doing so, subliminal signals are "planted" in the hopes of "blooming" whenever the customer thinks about that particular company. Take a cue from this practice the next time service request callbacks are being conducted. Asking residents, "Did the service team take care of all your service needs?" is more effective in breeding loyalty than, "I'm just checking in about your dishwasher service request. Please let us know if you need anything else."
The more times you can get residents to confirm a job well done, the better off you will be at renewal time.
Move 2: Claim the Win
To be a champion, you have to believe—in complete confidence—that you are going to win. Many times, management teams forfeit the win because they think a resident is not going to renew because of the increase. According to the 2014 SatisFacts Index for Annual Surveys, when asked, "What can be done to improve the community?" zero percent of respondents selected "lower rent."
I once read, "Price is only an issue in the absence of value." Let those words sink in for a minute and then drive your focus on service levels and make renewing an easy decision for your residents.
Making the Next Move
As a resident, I know without a doubt that my rent is going to increase each year. It is what it is. The increase does not deter me from committing to another 12 months. But as with all residents, that renewal notice sends me on a trip down memory lane, assessing the past year and my overall level of satisfaction.
First move…management. Next move…resident. Are you doing enough at your community to ensure the win?
Story by: Lia Smith