CFAA PRESENTS: BENJAMIN TAL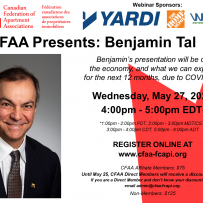 Benjamin Tal is the Deputy Chief Economist at CIBC World Markets. Well-known for his ground-breaking published research on topics such as labour market dynamics, real estate, credit markets, international trade and business economic conditions, Benjamin not only contributes to the conversation, but frequently sets the agenda.
Benjamin's presentation will be on the economy, and what Canadian rental housing providers can expect for the next 12 months, due to COVID-19.
WEDNESDAY MAY 27, 2020
4;00pm – 5;00pm EDT
REGISTER ONLINE AT: www.cfaa-fcapi.org
CFAA Affiliate Members can attend for $75+HST. CFAA Affiliate Members include the landlord members of CFAA member associations. For this webinar, we will also extend that price to supplier members of CFAA member associations.
CFAA Direct Members can obtain a discount of $30, for a net cost of $45. To receive the discount, the discount code must be applied at checkout by Monday, May 25. If you are a CFAA Direct Member and don't know your discount code, please email admin@cfaa-fcapi.org. 
Non-members may register and attend for $125+HST.

ADVANCE REGISTRATION IS REQUIRED.
All net proceeds of this webinar will go to support CFAA's lobbying work with the federal government on behalf of Canada's rental housing providers.