CFAA Awards – Your National Showcase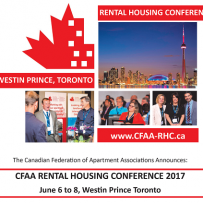 The clock is ticking down to the close of CFAA's second annual Rental Housing Awards Program.
 Applications in all categories are due on Monday, May 1, by 12 midnight PDT.
The CFAA Rental Housing Awards Program was started in 2016 to create a stage on which to celebrate excellence in rental housing across Canada. The winners are announced at the CFAA Awards Dinner, which takes place annually after the first day of sessions at CFAA Rental Housing Conference. That is to take place this year on Wednesday, June 7 in Toronto. Click here for more details about the Conference and Dinner.
The CFAA Awards program is open to members of CFAA member associations, direct landlord members, and Suppliers Council members. The pool of applications is comprised of both member association award winners, and direct entries from regions in which CFAA member associations do not have related awards.
This year's categories are:
Property Manager of the Year (New this year!)
On-Site Employee of the Year
Off-Site Employee of the Year
New Rental Development of the Year
Renovation of the Year
New Product or Service of the Year (for CFAA Suppliers Council members)
Association Achievement of the Year (for CFAA Member Associations)
CFAA is proud to invite the winners from its member associations which have similar awards to enter and compete in the CFAA Rental Housing Award Program. Those associations and their awards programs are:
Federation of Rental-housing Providers of Ontario (FRPO) – MAC Awards Program
Professional Property Manager's Association of Manitoba (PPMA) – Awards of Excellence
Investment Property Owner's Association of Nova Scotia (IPOANS) –  Innovation and Excellence Awards
To find out what categories you may be eligible to enter for buildings and employees in each province, please see this handy guide to eligibility.
If you would like more information on entering the CFAA Awards, visit www.CFAA-FCAPI.org/awards.php. If you would like to check you qualify to enter, please contact me at awards@cfaa-fcapi.org.
Jeremy Newman
Director of External Relations
Canadian Federation of Apartment Association