CFAA Awards Program 2017 Launches Today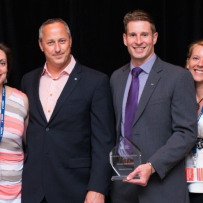 CFAA Rental Housing Awards 2017
After the successful roll-out of CFAA's first-ever Rental Housing Awards Program in 2016, CFAA is happy to announce that applications are now being accepted for the 2017 Awards Program.
This year's categories are:
Property Manager of the Year
On-Site Employee of the Year
Off-Site Employee of the Year
New Rental Development of the Year
Renovation of the Year
New Product or Service of the Year (for CFAA Suppliers Council members)
Association Achievement of the Year (for CFAA Member Associations)
Awards are open to landlords who are direct or indirect members of CFAA, and CFAA Suppliers Council Members.
For more details on the CFAA awards, including to download the awards package, visit the CFAA Awards webpage. Applicants are strongly encouraged to check eligibility before preparing an application.
Jeremy Newman
Director of External Relations
Canadian Federation of Apartment Associations