CCI Group Inc. is now McIntosh Perry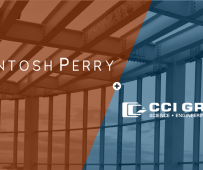 Two Award-Winning Firms Completes Merger to Form One of the Largest Privately Held Engineering Firms in Canada
TORONTO – CCI Group Inc., a national team of respected building science and environmental engineering experts, and McIntosh Perry Consulting Engineers Ltd. (MPCE), a multi-disciplinary engineering firm based in Eastern Ontario, today announced that the merger of the two companies has been completed. The new company, called McIntosh Perry, has more than 500 professional and technical staff in nine locations across the country, and provides a full range of services to the both the private and public sector.
"This is the start of an exciting new era for our company and for our clients," said Gus Sarrouh, CEO, McIntosh Perry. "When we first announced the merger in October 2016, we recognized that even though our two firms operated in different sectors, we shared a common set of goals and values. This has become more apparent as we have integrated the two companies. Our clients have the benefit of diversified services, a greater geographic reach, and a national team of engineers, technical experts and project managers dedicated to providing the highest level of service to our clients."
The new McIntosh Perry offers a full range of consulting engineer services and technical solutions that encompasses every stage of a project, including surveying, environmental and geotechnical engineering, building science, contract administration, project management, municipal engineering and land development engineering and planning. OEL Projects Ltd., a company which provides engineering, procurement, construction and management engineering services to the oil and gas industry, has also joined the McIntosh Perry family in April of 2017. At this time OEL will continue to operate under the OEL Projects Ltd name.
About McIntosh Perry
McIntosh Perry is an engineering firm with more than 500 engineers, project managers and technicians across Canada. With a history stretching more than five decades, McIntosh Perry provides comprehensive engineering services to the both the private and public sector. Our commitment to the success of our projects goes beyond words – it means being a partner with our clients and making good on our delivery promises. For more information, please visit www.mcintoshperry.com
Media Contact:
Greg Devine
g.devine@mcintoshperry.com
905.856.5200 ext. 410