Newsreel 1
The RHB Apartment Market Report for 2014 reports on the current state of the rental housing industry across Canada, including vacancy rates and average rent increases. Also provided are economic and apartment sales forecasts for 2014 and 2015. The report has been prepared by John Dickie, CFAA President, and Tony Manganiello of Cushman & Wakefield, using the CMHC Fall 2013 Rental Market Surveys, CMHC Housing Market Outlook, Canada Edition – First Quarter 2014, and proprietary data and...
read more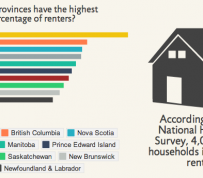 Whether you're curious as to what the rental landscape looks like coast-to-coast or you'd like to  compare how your portfolio is performing in another part of the country, this handy new infographic from BuzzBuzzHome will answer some of the questions you might have about the Canadian rental market. Check out the cross-Canada comparisons of everything from vacancy rates to deposit rules. Prices and vacancy rate stats apply to purpose-built apartments only. Play around with the fully...
read more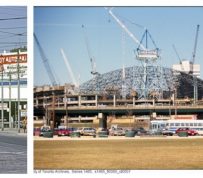 In a nostalgic look at over 30 years of Toronto's History, Derek Flack (Blog.to) brings us a compilation of images to illustrate the evolution of a great Canadian City. We've compiled a reel of the top 25 images per decade to provide a look back at the city's urban landscape and showcase its considerable growth over the years. THE 60'S In the later half of the 1960s, Toronto became a modern city. Yes, we managed to build a single-line subway a decade before, but it was the arrival...
read more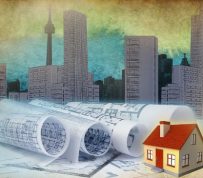 When Nicole Stewart imagines the future of Toronto, she likes to think small — really small. The policy development officer in the City of Toronto's Affordable Housing Office wants to see "tiny homes" built in backyards and laneways across the city. The teensy-tiny abodes could be between 100 and 800 square feet, made from recycled materials and energy-efficient. "The possibilities are endless in terms of what you could make. But they're much more affordable than what the market is currently...
read more
Economic growth in North America was unimpressive in 2013, and indeed over the past few years. The just-released gross domestic product (GDP) numbers for the 2013 fourth quarter gave the false impression that Canada (up 2.9 per cent annualized) is now outperforming the United States (up 2.4 per cent). This is a blip, and it won't last. The Conference Board of Canada expects the Canadian economy to grow by 2.3 per cent in 2014 – up from a mediocre 1.7 per cent in 2013, but nearly a full...
read more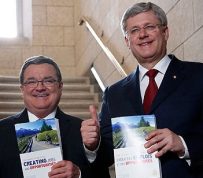 The mayors from Canada's largest cities gathered in Ottawa last month to call on the federal government to pony up more cash for housing and infrastructure funding, while raising concerns about the decision by Canada Post to end urban home mail delivery. Here are some of the highlights from the The New Building Canada Plan which provides $53 billion for provincial, territorial and municipal infrastructure.     New infrastructure fund includes $1B for small communities Smaller communities...
read more
Edward Sonshine, chief executive officer of RioCan Real Estate Investment Trust, says he's known as Darth Vader in the downtown Toronto neighbourhood where he battled to put up a Wal-Mart Stores Inc. outlet. RioCan, Canada's largest REIT, wants to locate chain stores where people are moving — into the center of North America's largest cities. Sonshine plans to build rental apartments on top of his retail empire to capitalize on growing populations in places like Toronto, Calgary and Austin,...
read more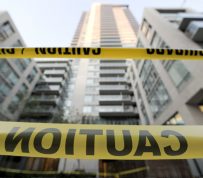 Report warns of excess supply of rental units in Toronto and Vancouver Canada's rental market is on a downward slope but is not headed for a crash, a new report concludes. The demand for rental units peaked nationally in 2012, according to an analysis that will be released Thursday by Canadian Imperial Bank of Commerce economist Benjamin Tal. Toronto hit its pinnacle in 2012, while Vancouver did so last year. The large number of condos that are still being built in both of those cities will...
read more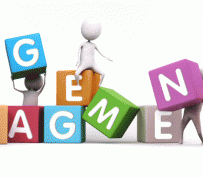 READY. SET. GO. While it is true that success in real estate is a result of 'location, location, location' 'rent, rent, rent' is equally as important. The ability to maintain rentable building space for financially sound tenants is the key to maintaining cash flow and helping owners achieve ownership goals. Retaining tenants is of paramount importance. Building owners expect their in-house management team to provide and maintain the programs and services that will keep...
read more