Events
Housing is a cornerstone of sustainable and inclusive communities. Each year, National Housing Day is held on November 22. It's a day to recognize the important work done by housing partners across Canada to improve access to housing for everyone in Canada. This year, we're celebrating National Housing Week, which runs from November 22 to 26. During this week, we come together with partners, stakeholders and Canadians across the country to recognize and showcase their tremendous  work. Take a...
read more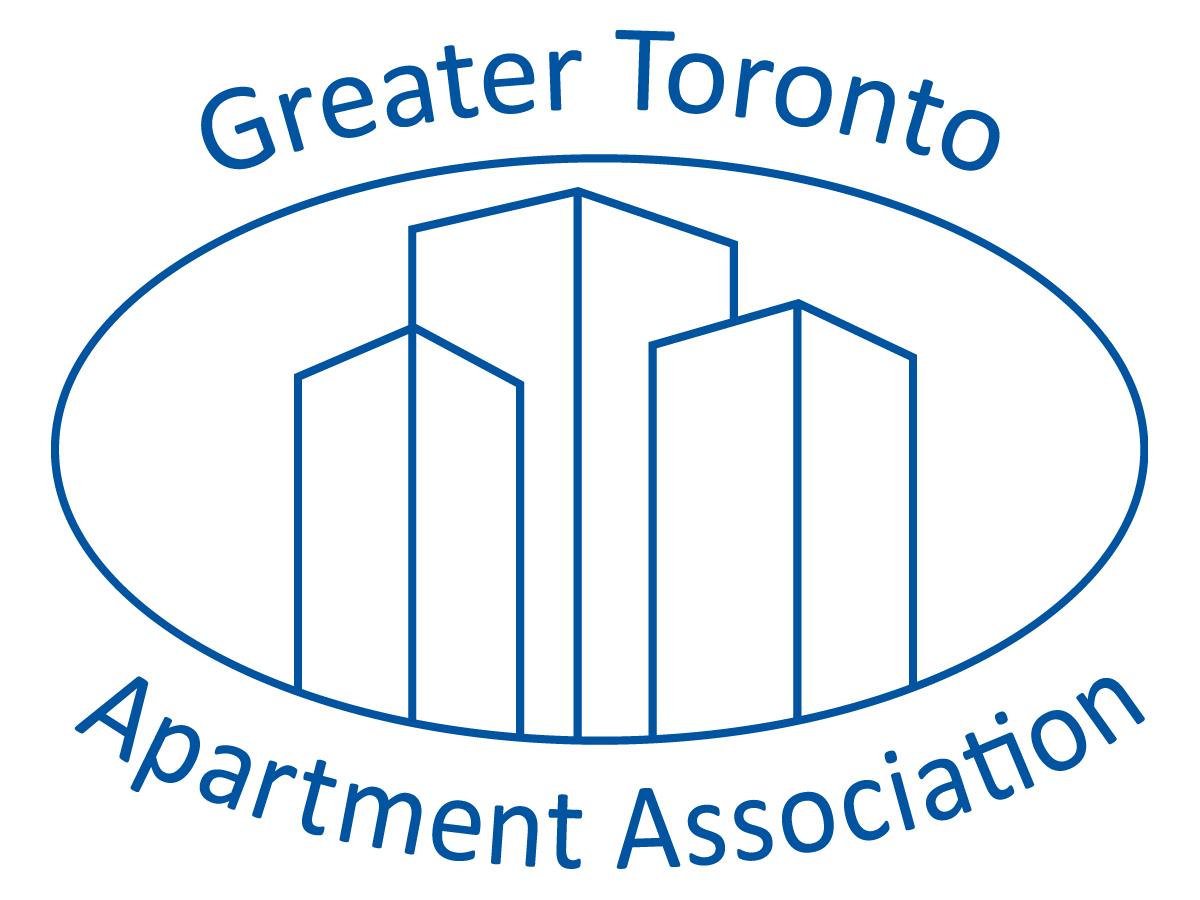 Wed Nov 10 9:30 – 10:30 AM $20 (+tax) Register HERE Last week, Urbanation reported that at the end of Q3, vacancy in purpose-built rental across the GTA was 3.0%. This is down from 5.1% in the previous quarter. In the former City of Toronto (downtown) the end of Q3 saw 3.8% vacancy. While the report data is based on rental buildings completed since 2005, it provides a great snapshot of what's happening in the market and how the situation is trending. These are certainly unusual times, as...
read more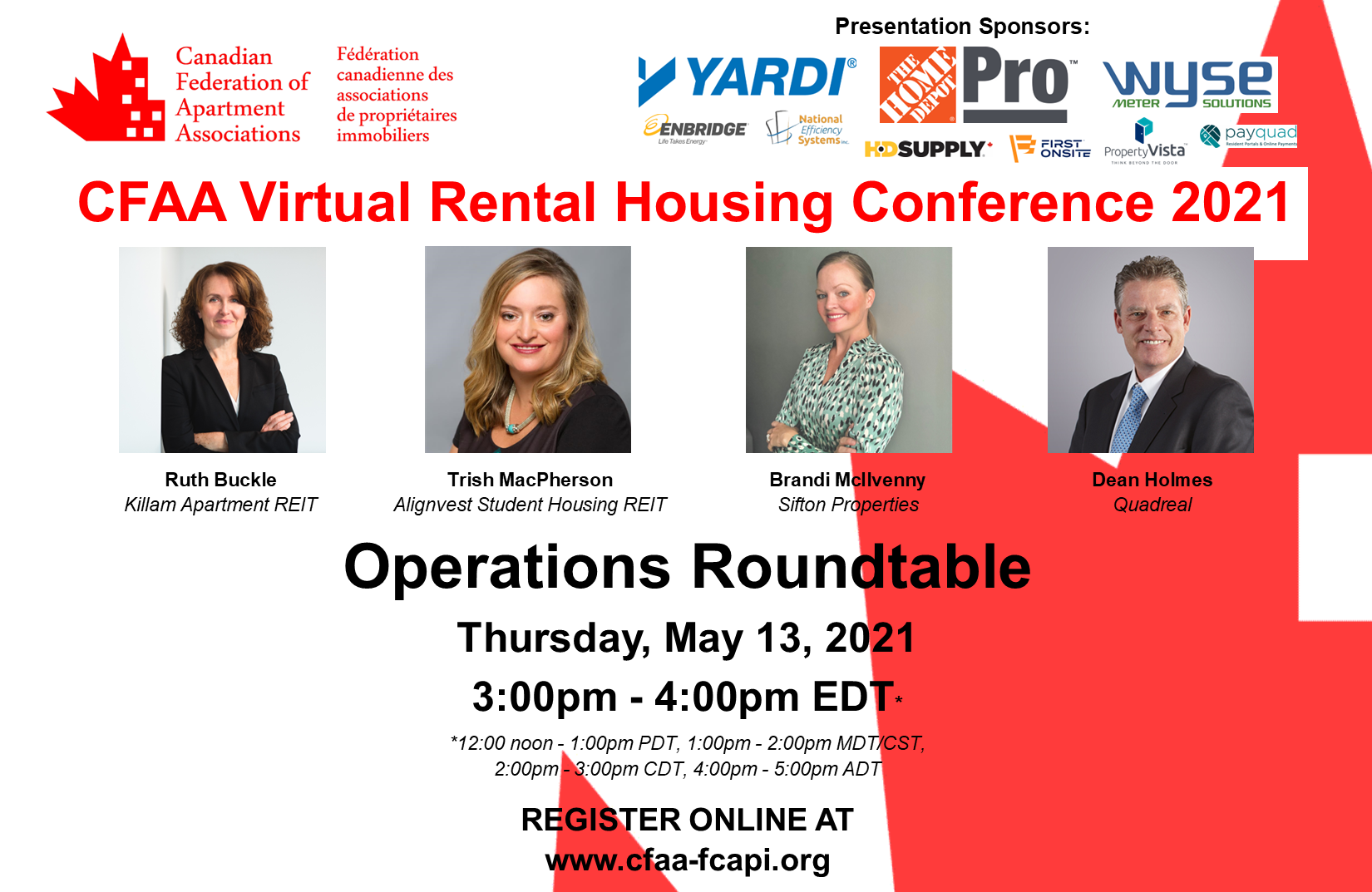 The Operations Roundtable will take place this Thursday (May 13) from 3:00 to 4:00 pm* EDT. *(12:00 to 1:00 pm PDT, 1:00 to 2:00 pm MDT/CST, 2:00 to 3:00 pm CDT, 4:00 to 5:00 pm ADT) The event will open at 2:30 pm EDT, and will remain open until 5:00 pm EDT, to allow for additional networking with attendees, sponsors and the panelists. Panelists: Ruth Buckle, Senior Vice President, Property Management, Killam Apartment REIT Trish MacPherson, Partner, Alignvest Student Housing REIT Brandi...
read more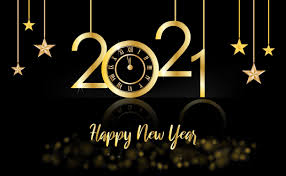 Wishing you and yours a safe, healthy and prosperous 2021. Happy New Year!
read more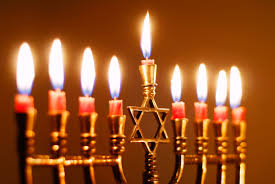 Best wishes for a wonderful holiday season and a new year filled with peace and happiness. Happy Hanukkah!!
read more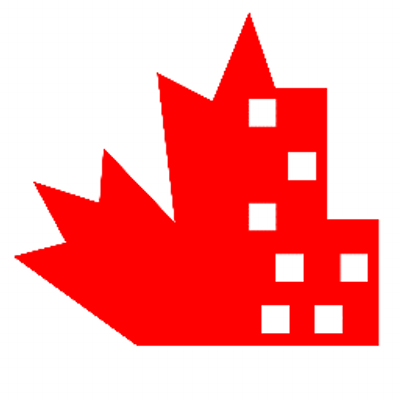 Congratulations to all the finalists and winners of the CFAA Rental Housing Awards 2020! CFAA thanks the judges, everyone who entered the Awards Program this year, and the Awards Presentation sponsors. This program could not take place without your interest and support. Rental Housing Provider Awards Rental Housing Provider of the Year – Under 7,500 Units Winner:               Shiplake Properties Shiplake Properties' COVID-19 response program went above and beyond to help residents with rent,...
read more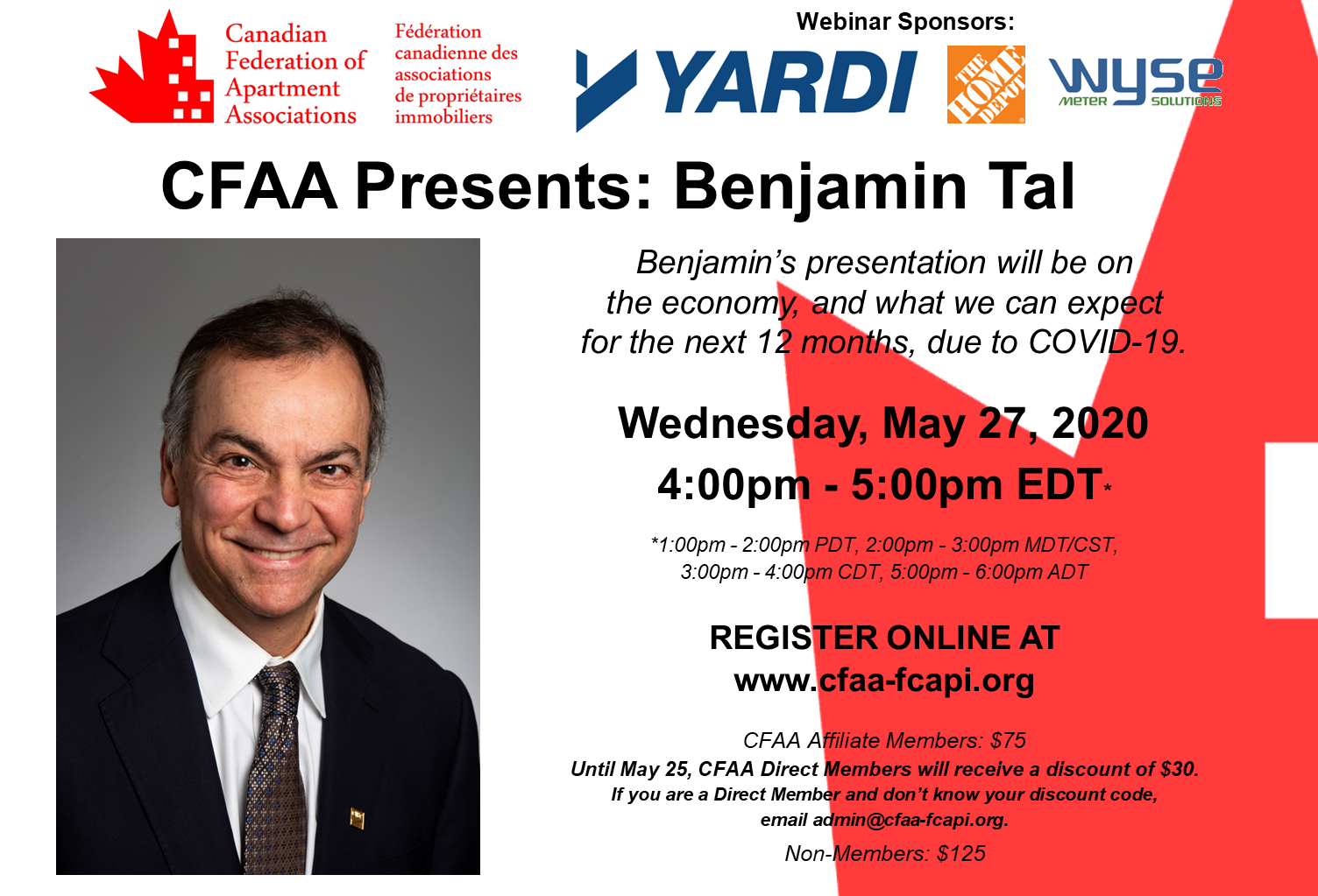 Benjamin Tal is the Deputy Chief Economist at CIBC World Markets. Well-known for his ground-breaking published research on topics such as labour market dynamics, real estate, credit markets, international trade and business economic conditions, Benjamin not only contributes to the conversation, but frequently sets the agenda. Benjamin's presentation will be on the economy, and what Canadian rental housing providers can expect for the next 12 months, due to COVID-19. WEDNESDAY MAY 27,...
read more

As the CFAA Awards Program is conducted completely online, it will continue for 2020, despite COVID-19 concerns. However, we understand that many people are working from home, and may not have access to all the files they need to complete their applications. As a result, we are extending the deadline for applications to Monday, May 4. Additionally, as a precautionary measure due to COVID-19, this year's Rental Housing Awards WILL NOT include an Awards Dinner. Winners will still be...
read more

Due to concerns over the COVID-19 situation, and in the best interest of our staff and attendees, CFAA has decided to cancel CFAA-RHC 2020 in Halifax from June 8 to 10, 2020. CFAA is looking into alternate options, such as on-line content and webinars, that would still allow us to bring you the valuable information from our education sessions, speakers and sponsors. Stay tuned for further updates! We expect that CFAA-RHC 2021 will take place in person and will follow the usual format. More...
read more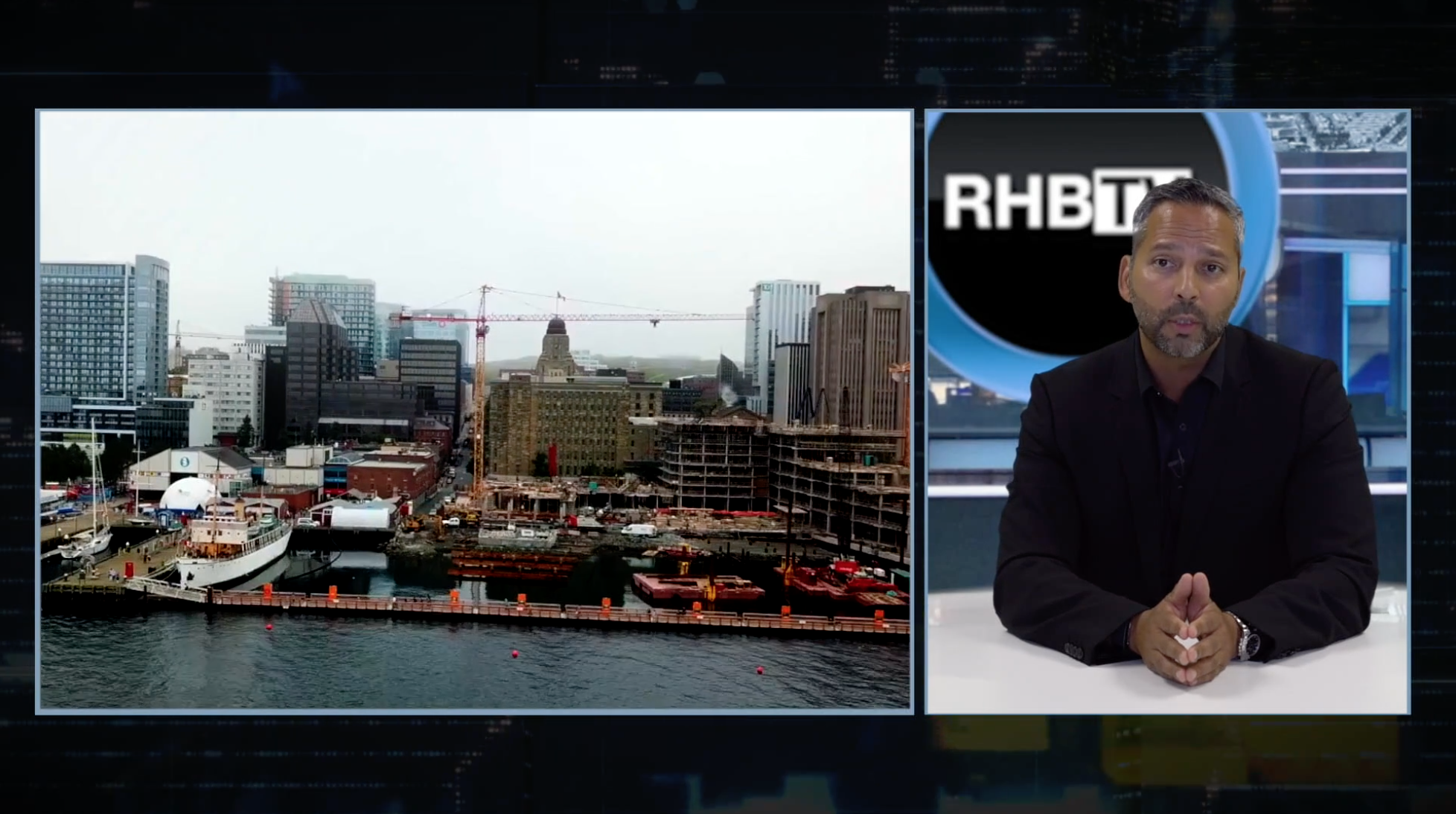 RHB TV is a one-of-a-kind media platform, that covers industry news, market data and emerging trends. Catch up on the rental housing trends we are seeing across the country as well as the latest developments of BILL 108. We look at the average asking rents for Canada's major rental markets, get an exclusive look at Rockport Group's luxury development, The Montgomery, and catch all the highlights of the FRPO & Greenwin Charity Golf Classics. EPISODE 2 is now live! Watch it at...
read more