Development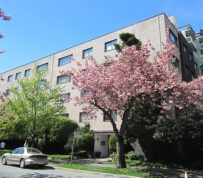 Landlords are paying record prices in a "relentless pursuit" of cash-flowing apartment buildings across Metro Vancouver, according to multi-family specialist Dave Goodman of HQ Commercial. Total sales of rental apartment buildings surged 36% in the first six months of this year, compared with the same period in 2013, with suburban markets seeing a 212% increase in total apartment unit sales. In Vancouver, where the average price of an apartment rental suite increased 13% to a record $302,179,...
read more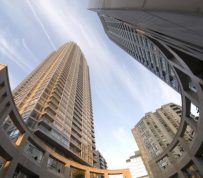 An interesting confluence of trends is affecting an almost-forgotten segment of the Toronto real estate market. For the longest time, Toronto enjoyed a vibrant and robust pure rental market of apartment buildings purposely built to lease for residential uses. Most of these apartment buildings date back to the 1960s and '70s and most still stand today. While quite a number of pure rental apartment buildings remain in the city, there are very few of them under construction today. Morguard Corp....
read more
At the end of Q2-2014, there were 213,683 homes being built across Canada's 10 busiest new residential construction markets. Naturally, the activity was centred in a few major urban areas, with Toronto standing out as the most active market by far. There is nearly the same number of homes currently under construction in the Toronto metropolitan area as the metro areas of Vancouver, Montreal and Calgary combined. With 81,061 total homes under construction in the metro area — 47,750 of those...
read more
Ground-breaking Urban Capital and Malibu have innovated again. City living doesn't get more inspired, efficient and downright cool than Smart House ­Toronto's first micro-condo, at the über central corner of University Avenue and Queen Street West. When you live this deep downtown you need streamlining and intelligence in order to keep your space functional and affordable. Denizens of New York, London and Tokyo get that concept, but it's taken until Smart House for...
read more
IN IRELAND REITS ARE THE NEW KIDS ON THE PROPERTY BLOCK – CANADA'S CAPREIT SEES OPPORTUNITY IRES REIT was created when Investec Bank invited Canada's largest apartment REIT (CAPREIT) to look at a portfolio of 338 apartments which was being sold by Lloyds bank. CAPREIT was established in the Canadian downturn of 1997 and now owns and rents 41,200 apartments there. CAPREIT were surprised that there were no large scale professional investors in apartments in Ireland and saw a great...
read more
Vancouver has a plan, Olivia Chow's proposal for Toronto and resident opposition in Hamilton. Vancouver creates new agency to increase affordable rental housing City has mandate to provide 2,500 units by 2021 The City of Vancouver has announced the creation of a the Vancouver Affordable Housing Agency, a resource centre aimed at increasing affordable rental housing stock for families that don't qualify for social housing, but can't afford to buy. In a report to council from Mukhtar...
read more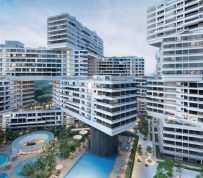 Singapore has just completed The Interlace, a massive residential complex comprised of 31, six-story apartment blocks. Designboom explains the development's seemingly disorganized configuration: Blocks are arranged on four main 'superlevels' with three 'peaks' of 24 storys, while multi-story openings allow light and air to weave into and through the landscape. Designed by Bejing-based architecture firm Buro Ole Scheeren, the hexagonal project spans more than 1.8 million square feet and is...
read more
Canadian developer Ian Gillespie was in full spate as he described his vision for Vancouver as an Asia-Pacific hub, attracting the best and brightest to what is routinely ranked as one of the world's most liveable cities. It is a vision that underpins his latest project: Vancouver House, a futuristic-looking high-rise that Gillespie predicted would become a landmark for the city when completed in 2018. The luxury residential tower is being marketed around the world, including Beijing,...
read more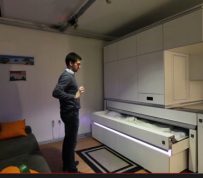 MIT Media Lab's CityHome is essentially an entire apartment packed into a magical, transforming box that's controlled by touch and motion sensors. Pull your arm back, and a bed or dining table appears. Wave your hand, and the lights dim and blinds close. Gently touch the counter, and the entire unit moves backwards or forwards, revealing (or concealing) a bathroom. Like the eight-room, 420-square-foot apartment in New York, the idea is to pack as many living areas into as small a space as...
read more
Do you think you could live in a 15-by-15-foot micro apartment with minimal furniture, all of which is multi-functional? Not many could handle dealing with such as a cramped space, or having to constantly put away their bed. However, millions of people will sign themselves into micro apartments for reasons you may or may not understand. Here are some drivers of this trend and why it's gaining strength: Affordability of Mirco Apartments Money is a hot commodity, always has been and always will...
read more