CAPREIT CONTINUES TO UNVEIL NEW MARKETS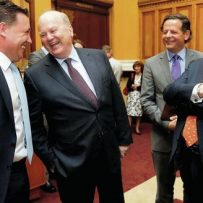 IN IRELAND REITS ARE THE NEW KIDS ON THE PROPERTY BLOCK – CANADA'S CAPREIT SEES OPPORTUNITY
IRES REIT was created when Investec Bank invited Canada's largest apartment REIT (CAPREIT) to look at a portfolio of 338 apartments which was being sold by Lloyds bank. CAPREIT was established in the Canadian downturn of 1997 and now owns and rents 41,200 apartments there. CAPREIT were surprised that there were no large scale professional investors in apartments in Ireland and saw a great opportunity to buy buildings at below construction cost and to "add value" through professional management.
The first four acquisitions are in schemes in Dublin at Smithfield, Inchicore, Sandyford and Tallaght and were bought for €42.2m. In one of these blocks the REIT owns all of the apartments and in others it owns from 32pc-82pc of the units. A further €50m was used to buy 84 two bed apartments in the Marker Hotel scheme in Dublin docklands.
The REIT adds value by making its properties as attractive as possible to tenants. CAPREIT were surprised to find that most Irish schemes did not have an onsite building manager, meaning tenants had to make appointments to view. The firm has added these facilities and upgraded apartments and common areas to the highest standards. Creches, playgrounds and gyms are added as appropriate which make the schemes more attractive and maximises occupancy levels and rents. As Mr Huggard noted "It's simple stuff-but others aren't doing it." Another benefit is that the REIT can use its scale to employ contractors at the best rates thus achieving efficiencies and this feeds into lower service charges for occupiers. The REIT constantly "mystery shops" its own buildings to ensure that occupiers and prospective tenants are met with the highest standards. Emmet Gaffney told me that rents are growing at double digit rates in Dublin, due to shortages of supply. "Within an hour of an apartment being advertised online, enquiries are coming in." For example, for the prime scheme at "The Marker", existing leases are at an average rent of €2,100 per month but re-lettings are at €2,500 per month. However the REIT seeks to hold onto good tenants and rental increases where a tenant renews are often lower than when a unit is vacated and re-let. IRES REIT has €95m in cash remaining and REIT rules permit borrowing a conservative maximum of 50pc of the value of the REIT. The REIT is planning to buy approximately 5,000 apartments in Ireland in the longer term and will also consider purchases in the provincial cities.
Investec suggest that IRES REIT are an attractive purchaser to NAMA as they are a long term holder of investments and assets will not be "flipped", unlike "vulture" funds.
Mr Gaffney told me that "the long term outlook for apartment rentals in and around the cities is strong, particularly as there is a young and mobile workforce who want to rent long term. We are reaching the European norm where 30pc of occupiers are long term tenants." Mr Huggard says that whilst we have seen just a few large deals, it is clear that yields are tightening. He believes that rents will be underpinned by a lack of supply.
Some 85pc of net rental income is paid out as dividends to investors and IRES REIT aims to provide investors with a 4.5pc-5pc dividend yield. REITS are having a significant impact on the property markets.
Paul McNeive, Indo Business